by
Tom Purcell
on Mar 25, 2013 in
Featured
,
Humor
,
The Catholic Family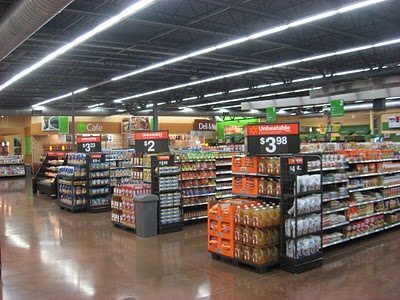 Grocery Night
Thursday night was grocery shopping night and the best night of the week.
Right after dinner, my father and I would board our 1972 Plymouth Fury station wagon and head to the Del Farm grocery store. It was located in a small plaza one mile from our suburban home.
Like all grocery stores then, Del Farm was a utilitarian place. There were no lobster tanks or gourmet food displays. The daily specials were written in black magic marker on torn sheets of white wax paper and taped to the front windows.
Inside, everything was painted white and illuminated by the bare florescent bulbs that hung above.
I got to push the cart as I helped my dad find the dozens of items on my mother's shopping list. The two watched their spending carefully, as my father was the sole breadwinner, but he'd usually give in a little.
On a good night, he'd buy a box of Del Farm's fresh-baked oatmeal and chocolate chip cookies and a bag of Snyders of Berlin potato chips and onion dip (my mother's favorite).
One Thursday a month, we'd stop at the beer distributor for a case of Pabst Blue Ribbon and twelve 64 oz. bottles of Regent soda pop. The small store was packed with boxes of beer. The store's owner gave me a pretzel rod, then the subject shifted to sports, new car models and other things that dads and beer distributor owners liked to talk about then.
Sometimes, my dad and I would make a run to the drug store or drive to the butcher's in another plaza to get a Sunday pot roast. On the way home, we'd stop in at the "little store" — the privately owned convenience store in our neighborhood — to load up on lunchmeat and cheese.
When we finally pulled the loaded-down station wagon into the garage, everyone in the house was alerted and the massive unloading process began. We usually got everything packed away by 8 p.m., just in time to head to the downstairs family room to watch "The Waltons."
The ritual was the same every week: We'd bring down a bowl of ice and then open some bottles of Regent soda pop, the orange being our favorite. (Grape was the next most popular, followed by cherry, then cola, then root beer.)
I was usually the first one to open the Snyders of Berlin chips. And as I tore open the heavy foil bag, my senses were overcome by the smell of freshly fried chips. I'd load them into a few bowls and set them on the tables.
And there sat my sisters and my parents, watching "The Waltons," eating the finest chips ever made, sipping our soda and feeling safe and secure.
It was Thursday, after all, and the weekend was soon to come. The house was loaded to the hilt with food, which was always a fine feeling. My mother and father were together and with us and all was right with the world.
I didn't know then how lucky I was to know such security. I didn't know that my happiness was a result of two people who put their children's needs so far before their own that we didn't know they had needs.
What a tremendous impediment we must have been to their comfort.
But I know it now. And I know how important my father was to my happiness and security.
Unlike too many fathers today — unlike the bumbling idiots portrayed on television — my father was firm. He was demanding of us, but that is what we craved. He wasn't much good at telling us he loved us, but he was a master at showing us his love through repeated actions.
I'm no expert on parenting or fatherhood, but at 50, I know this:
When I open a bag of Snyder of Berlin potato chips, I am filled again with the security and happiness that I felt so long ago because my mother and father were putting my needs first.
Exclusive Excerpt from: "Misadventures of a 1970s Childhood" by Tom Purcell
(Editor Note: A prior version of this column was distributed in 2006. If you run this column, please mention that it is an excerpt from Tom Purcell's new book, "Misadventures of a 1970s Childhood" available at amazon.com.  Thanks!)