by
Hilary White
on Feb 13, 2013 in
Contraception & Abortion
,
Euthanasia & Assisted Suicide
,
Featured
,
The Homosexual Agenda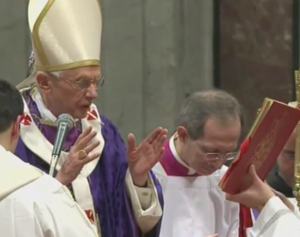 It was an emotional day at the Vatican as Pope Benedict XVI, in two of his last public addresses, called again on Christians to continue to defend the lives of innocent unborn and vulnerable people and to uphold the sanctity of natural marriage. In this morning's regular Wednesday general audience, he warned that Christians will face great pressure to give up their commitments.
"Even those who come from a Christian family … must renew daily their decision to be Christian, to give God the first place in the face of the temptations continuously suggested by a secularized culture, in the face of the criticism of many of their contemporaries."
But this must not deter them from proclaiming the truth: "The temptation to set one's faith aside is always present and conversion becomes a response to God that must be confirmed at various times throughout our lives," he said.
"It is not easy to be faithful to Christian marriage, to practice mercy in our everyday lives, or to leave space for prayer and inner silence.
"It is not easy to publicly oppose the decisions that many consider to be obvious, such as abortion in the case of an unwanted pregnancy, euthanasia in the case of serious illness, or the selection of embryos to avoid hereditary diseases."
The tone of the Ash Wednesday homily was sombre, befitting the occasion of both the first day of Lent and the mood of Catholics around the world at Pope Benedict's almost unprecedented and shocking revelation on Monday. In the homily, he warned ominously against divisions and "sins against the unity of the Church".
He referred to "the prayers of priests, who, with tears in their eyes," pray to God, asking, "Spare your people, Lord! Do not let your heritage become a disgrace, a byword among the nations! Why should they say among the peoples, 'Where is their God?'"
"This prayer leads us to reflect on the importance of witnessing to faith and Christian life, for each of us and our community, so that we can reveal the face of the Church and how this face is, at times, disfigured," the pope said.
"I am thinking in particular of the sins against the unity of the Church, of the divisions in the body of the Church."
He called upon those listening to live Lent "in a more intense and evident ecclesial communion, overcoming individualism and rivalry is a humble and precious sign for those who have distanced themselves from the faith or who are indifferent."
Towards the end of the Mass, the pope stood quietly while prolonged applause erupted spontaneously from the crowd. One observer present said that although the tone of the Mass was deeply reverent, "as all papal Masses have been under this pope, it was simply impossible to stop people pouring out their affection and deep sorrow at his impending departure from the throne of Peter."