by
Dr. Robert Moynihan
on Feb 13, 2013 in
Featured
,
History
,
Vocations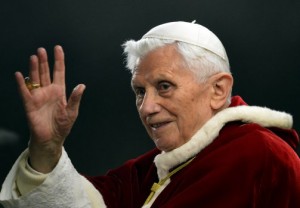 "While the Lord continues to raise up examples of radical conversion, like Pavel Florensky, Etty Hillesum and Dorothy Day, he also constantly challenges those who have been raised in the faith to deeper conversion."—Pope Benedict XVI, at his next-to-last General Audience, this morning in the Paul VI Audience Hall in Vatican City
Benedict Reaches Out
Jews, Protestant evangelicals, and Orthodox Christians will find Pope Benedict's words this morning of particular interest.
The Pope, in different ways, is reaching out to each group.
And in this outreach, Pope Benedict does not cease to surprise, even to astonish.
After February 28, and his renunciation of the papal throne, the fisherman's ring which he wears with be broken in half…
Outreach to Orthodox, Jews, and Evangelicals
Pope Benedict continues to give us hints about what he wants those who listen to him and who follow him — both Roman Catholics and all other men and women of good will — to focus on in the days ahead, in our increasingly secularized world.
What Benedict wants all to focus on, Catholic and non-Catholics, believers and unbelievers, is the great "missing element," the great "not present" in our modern world and society: that is, the hidden God who is the source of all being and goodness, and the true end and answer to all human hopes and longings.
This morning, speaking in English during his General Audience (his next to last General Audience as Pope), Pope Benedict mentioned three people as examples of "radical conversion" who were "raised up by the Lord" as "examples" during the past century: Pavel Florensky, Etty Hillesum and Dorothy Day.
Benedict's choice of these three, from a certain perspective, could not have been more provocative… because none of the three can be considered a "model" Catholic. None of them were raised in the faith.
"Seekers" of God
In fact, the first two people mentioned by Pope Benedict this morning, a brilliant Russian Orthodox philosopher (Pavel Florensky, who was executed by the Soviet regime in the 1930s) and a sensitive Jewish woman writer killed at Auschwitz (Etty Hillesum), were never Catholics at all.
And the third, an American convert to Catholicism (Dorothy Day, co-founder of the Catholic Worker movement), has always been controversial because she was an active Communist as a young woman, and remained "leftist" in many of her views throughout her life. (I had the chance to meet Dorothy once, in 1976 in New York City.)
But, though not "cradle Catholcis," the Pope held up these three today as examples because each was a sincere "seeker of God."
Each was true to a desire, a longing, in their hearts, which set them out, as it sent out St. Augustine, on a search for truth, on a search for that ground of reality which could satisfy their deepest longings.
This is the common thread.
This is what Pope Benedict is stressing today.
He is reaching out to all and saying to all, be true to your deepst longings, to your deepest desire to reach that hidden infinite, that absolute which is also personal, which your soul longs for.
And he is saying that this "remaining true" is an inspiration also for those raised in the faith. He said this morning that the Lord "also constantly challenges those who have been raised in the faith to deeper conversion."
This is the message of the Pope to Catholics at this time.  The message is: deeper conversion.
The Pope is at pains to make one, central point: that, though values, morals, customs and traditions are critical for mankind, for sinful and imperfect men and women, to come to a more reasonable, more balanced and more "sane" (healthy, healthful, vibrant) human life, the true, mysterious, radical "source" of the fullness of human life and health and sanity and blessedness — that is, the fullness of being saved from frustration and sin and death, the fullness of salvation, of eternal life — is an encounter with, a connection to, a sharing of the very divine life of, God, and of the Son of God, the risen Lord, Jesus of Nazareth.
Those evangelical, Protestant Christians who feel that the Catholic Church, with its vast, global structure of offices, laws and institutions, has lost sight of this central fact, of the need for a personal relationship with Jesus Christ, should feel moved to reconsider their position by these very clear words of this Pope, who is now speaking in the final 15 days of his papacy, so his words in these days may be seen as a sort of spiritual testament.
He is placing God at the center. He is placing Christ at the center. Not himself, not his papacy, not the institutional Church.
Those Jews who have half-suspected, or have even been inwardly certain, that this Pope, a German who was forcibly conscripted into Hitler's army in 1943, was not a friend to the Jewish people, should be startled by his choice of a young Jewish woman, killed at Auschwitz, as one of the "models" of spirituality he would choose to present at one of his final public audiences.
And those Orthodox who wonder if the Roman pontiff truly respects the Orthodox and their profound spiritual life and tradition, should be moved by the fact that the first name mentioned today by the Pope, in the next-to-last general audience of his pontificate, is the martyred Russian Orthodox theologian, Pavel Florensky.
(Here is a link to a video of the Pope's words: it may be of interest to you to seen how the Pope appears, in these historic days.)
Here is a brief report, from Rome Reports, on what the Pope said today:
February 13, 2013. (Romereports) "I thank you all for the love and prayers that have accompanied me. Thank you," said the Pope. "In these difficult days, I've felt almost physically, the power of prayer that comes through the love for the Church and your personal prayers. Continue to pray for me, for the Church and the future Pope. The Lord will guide."
Looking calm and serene, Benedict XVI led his first public appearance, after announcing his resignation. Before a full crowd, he once again said he made the decision with complete liberty.  He echoed Monday's statement by saying that he  does not have the strength to carry out the office.
Then he continued with his weekly catechesis, on Ash Wednesday.
He talked about the temptation Jesus experienced when He was in the desert. In today's modern world, said the Pope, temptation is to push faith aside and seek false solutions.
"While the Lord continues to raise up examples of radical conversion, like Pavel Florensky, Etty Hillesum and Dorothy Day, he also constantly challenges those who have been raised in the faith to deeper conversion."
During this Lenten season, the Pope invited people to open their minds and hearts, as Christ knocks on their door. A source of true inspiration, he says, is that Jesus himself overcame temptation out in the desert.
The Vatican's Paul VI Hall was full of pilgrims who greeted the Pope, interrupting him with  applause throughout, to show their gratitude for the last eight years.