by
40 Days for Life
on Oct 01, 2011 in
Featured
,
On Media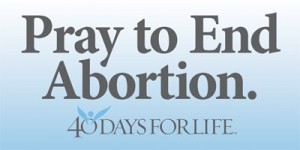 The media likes 40 Days for Life — and we have the abortion industry to thank.
No, I have not lost my mind just four days into the campaign!
Yes, I know at the national level, the media seems to have an agenda that's radically in favor of abortion.
But I'm seeing 40 Days for Life campaigns getting great coverage — and a fair shake — in local media outlets.
This is typically because the abortion center staff complains to the media — and tell the reporters and producers that they're under a "violent siege" or that "extremist protesters are harassing patients."
Of course, when the local media go to the vigil, they find moms praying with small children. Or high school students kneeling in prayer. Or businessmen praying on their lunch hour. Or an elderly couple praying quietly.
When this happens, the local media, pro-life or not, sees the vigil volunteers as the underdogs — and the abortion center workers come off as intolerant.
The staff's overreaction is the catalyst for 40 Days for Life getting a fair treatment.
I just did a local media interview for a 40 Days for Life campaign, and this never fails. Here are a few examples. 
FAIRFIELD, CALIFORNIA: The Fairfield Daily Republic reported on the local 40 Days for Life kickoff event — and included a picture of Catholic Bishop Jaime Soto of Sacramento leading the crowd of about 150 in prayer.
The opening vigil was held in front of a Planned Parenthood facility. One volunteer told the reporter that people would go there to pray "until they close this place."
While the article quoted talking points from the Planned Parenthood web site, no one from the organization would speak to the reporter on the record.
In reference to the Planned Parenthood staff, another volunteer said, "We are here to pray for them as well. We're not here to finger-point."
For a link to the full story from the Fairfield Daily Republic, please go to: http://40daysforlife.com/blog/?p=2270 
AMARILLO, TEXAS: KFDA-TV, the local CBS affiliate, covered the 40 Days for Life kickoff in Amarillo — and gave a very accurate description of the typical vigil: "There was no yelling, no protesting and no arguing, just a peaceful gathering of those fighting to end abortion."
Local coordinator Stephanie Frausto noted that abortions are not performed at the facility where the vigil is held, but it's often the first stop for abortion-minded women.
"So we are always here," she said.
The reporter also noted, "While they prayed and sang songs, several also shared their testimonies, because they're not just pushing to end abortion, but to also heal those who have had one."
To see the video from KFDA-TV, please go to: http://40daysforlife.com/blog/?p=2270
VICTORIA, BRITISH COLUMBIA: Victoria's first-ever 40 Days for Life campaign got the attention of the Goldstream News Gazette, which interviewed vigil participants outside a local abortion center.
"We are praying for women and their unborn children," said volunteer Steve Weatherbe. "We are praying for women to change their minds and to keep their babies."
People praying are restricted by a 30-meter buffer zone — that's about 100 feet. But they did not let that discourage them.
The reporter quoted a member of a local pro-abortion group, who said she was "appalled it is going on for 40 days." She predictably called the 40 Days for Life event "harassment."
"This is not a protest," countered Weatherbe. "It's a prayer vigil."
The only harassment anyone noted came in the form of pro-abortion slogans that were spray-painted on the sidewalk. Police are investigating the vandalism.
 For a link to the full story from the Goldstream News Gazette, please go to:
http://40daysforlife.com/blog/?p=2270
[Shawn Carney, Campaign Director]