by
Vatican Information Service
on Oct 23, 2013 in
Featured
,
The Shepherd's Voice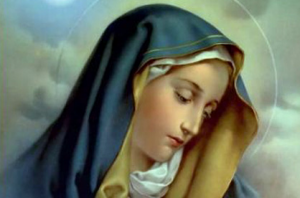 Mary as a model of the Church "in the order of faith, charity and the perfect union with Christ", according to the definition offered by the Vatican Council II, was the theme of Pope Francis' catechesis during this Wednesday's general audience in St. Peter's Square, attended by over ninety thousand people.
Mary is a model of faith, not only as a Jewish girl who awaited the redemption of her people with all her heart, but also for the "yes" she proclaims at the Annunciation, when God reveals his plan to her. "From that moment Mary's faith receives a new light: it is focused on Jesus. … Mary's faith is the fulfillment of the faith of Israel, and in this sense it is the model of the faith of the Church, which has Christ, incarnation of God's infinite love, as her center".
The mother of Christ lives this faith "in the simplicity of the thousand daily tasks and worries of every mother: … it was precisely this normal existence of the Virgin that provided the terrain for the development of the singular relationship and profound dialogue between her and God, between her and her Son. Mary's 'yes', already perfect from the beginning, grew up until the time of the Cross. There, her maternity broadened to embrace every one of us, to lead us to her Son. Mary always lived immersed in the mystery of God made man, as His first and perfect disciple, contemplating everything in her heart in the light of the Holy Spirit, to understand and put into practice all of God's will."
To explain the second aspect, Mary as a model of charity, the Pope used the Gospel story of her visit to Elizabeth. "Visiting her, the Virgin Mary did not take merely material assistance to her; she took this too, but she brought Jesus to her, Who already lived inside her womb. Bringing Jesus into her house meant bringing joy, the fullest joy … that comes from Jesus and from the Holy Spirit, and is expressed in freely given charity, in sharing, helping, and understanding. … Mary also wants to bring to us, to all, the great gift of Jesus; and with Him, she brings us His love, His peace, His joy. Thus is the Church: she is like Mary, she is not a shop, she is not a humanitarian organization, she is not an NGO, but rather she is sent to bring Christ and His Gospel to all; she does not bring herself, she brings Jesus. And the Church must be like Mary when she went to visit Elizabeth. She must bring Jesus. If the Church did not bring Jesus, she would be a lifeless Church. She must bring the strength of Jesus, of Jesus' love."
Mary is also a model of union with Christ. "The life of the holy Virgin," concluded the Pope, "was the life of a woman of her people: she prayed, she worked, she went to the synagogue… but every action was carried out in perfect union with Jesus. This union reached its culmination on Calvary: there, Mary united with her Son in His martyrdom of the heart and in the offering of His life to the Father for the salvation of humanity. Our Lady made her Son's suffering her own, and accepted with Him the will of the Father, in that obedience that bears fruit, that leads to true victory over evil and death."