by
40 Days for Life
on Jan 04, 2012 in
Featured
,
Life Issues & Bioethics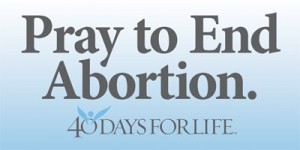 The first 40 Days for Life campaign of 2012 is set for February 22 – April 1 and if you're interested in leading this life-saving outreach in your community, it's time to apply!
By early indications, this is going to be a very exciting 40 Days for Life. Applications have already been pouring in from across North America and around the world! If you feel called to help save lives by leading a local campaign in your community, the application is available here and can be completed either online or by mail.  We will be accepting 40 Days for Life applications until next Tuesday, January 10.
PLEASE NOTE: You do NOT need to apply to pray, volunteer or participate in a local 40 Days for Life. The applications are only for people wanting to lead a 40 Days for Life effort in a community.
Take some time. Think about it. Pray about it. Discern God's will. You may wish to check out the campaign overview report, which tells you everything you need to know about 40 Days for Life and how to bring this mission to your city. Or you can watch this video, in which 40 Days for Life campaign director Shawn Carney explains how God has saved lives and made an impact through the faithfulness of His people — people just like YOU.
We have an opportunity to make a profound impact together at the beginning of 2012 and we can't wait to see how God plans to save lives through YOUR dedication and faithfulness!