by
Kurt Kondrich
on Aug 21, 2012 in
Contraception & Abortion
,
Featured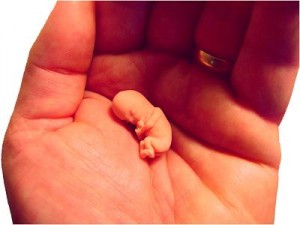 A very controversial slogan during this heated election season is "We did build this." This phrase centers around the debate of who is responsible for the building of small businesses — government or small business owners. Many are deeply divided on this issue, and it has become a core theme for choosing the direction of this great nation. As I reflected on this slogan I began thinking of the greatest, most priceless thing ever built — Human Life, and I thought what would God's response be if we told Him that "He didn't build this."
I opened my Bible, and that is where God's response to the "building" of Human Life can definitively be found. I entered "womb," the place where this precious miracle is built, into my online searchable Bible, and here are some responses from the Creator of mankind and the universe:
Psalm 22:9 "Yet you brought me out of the womb"
Psalm 22:10 "From my mother's womb you have been my God."
Psalm 51:6 "Yet you desired faithfulness even in the womb; you taught me wisdom in that secret place."
Psalm 71:6 "You brought me forth from my mother's womb."
Psalm 139:13 "For you created my inmost being; you knit me together in my mother's womb.
Ecclesiastes 11:5 "As you do not know the path of the wind, or how the body is formed in a mother's womb, so you cannot understand the work of God, the Maker of all things."
Isaiah 44:2 "This is what the Lord says — He who made you, who formed you in the womb"
Isaiah 49:1 "Before I was born the Lord called me; from my mother's womb he has spoken my name.
Jeremiah 1:5 "Before I formed you in the womb I knew you, before you were born I set you apart"
Luke 1:41 "When Elizabeth heard Mary's greeting, the baby leaped in her womb"
Galatians 1:15 "But when God, who set me apart from my mother's womb and called me by his grace"
The answer is very clear and evident that "God DID build this" gift of Life, and in our nation under God we have destroyed over 50 million Human Buildings (ALL Priceless) which house the only eternal item in this world — the human soul. Many children are being destroyed prenatally because their building has been labeled defective by a culture of death, and over 90% of children with the prenatal genetic build code of Down syndrome have been condemned and torn down and apart in the womb.
Until we as a nation begin to embrace, treasure, protect and support the most valuable gift ever — Human Life — no amount of earthly treasure or wealth will remove us from the path of darkness we are traveling down at a very rapid pace. May God give us the courage and strength to rebuild a culture of Life in this country where all are "Endowed by their Creator with certain unalienable Rights, that among these are Life."
God DID Build this Priceless Gift of Life and please take a few minutes to watch and pass on my tribute to our Creator:
Proverbs 12:28 "In the way of righteousness there is life; along that path is immortality."