by
Carolyn Moebest
on Apr 16, 2014 in
Catechesis
,
Featured
,
Learn & Live the Faith
,
Live in Christ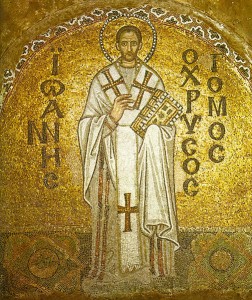 Today's readings center around the betrayal of Jesus  by Judas Iscariot. I have been thinking as I go through the trials of having an ill spouse: how easy it is to betray Jesus by losing hope?  How often do I want to escape from my daily duties?  It can be difficult to accept prolonged suffering, especially when it hits close to home.
I miss the Eastern Church and Great Lent, so I am even more ashamed to admit that I have not even done the fast or properly mortified myself this season.
When I heard this Sunday's Gospel, I felt surprised that Palm Sunday was already here. That means this is Holy Week, and I have done a poor job preparing myself for the highest Holy Day on the Christian Calendar.
As I write this reflection, and admit my failings, I am reminded of the great Pasche sermon of Saint John Chrysostom, and wish to encourage those who like myself have not done their best to spend some time considering his words:
Come, then! Let us all enter into the joy of the Lord! You the first and you the last, receive alike your reward. You rich and you poor, dance together. You with self-control and you who are weak, celebrate this day. You who have kept fast and you who have not, rejoice today. The Table is Richly laden: enjoy its Royal Banquet. The calf is fatted, let no one leave hungry.

"Let no one mourn their poverty, for the universal Kingdom has been revealed. Let no one weep because they have fallen again and again; for forgiveness has risen from the grave.

"Let no one fear death, for the death of our Saviour has set us free. He has destroyed it be enduring it. He has sacked Hell by going into it.

"Hell is angered because it has been frustrated. Hell is angered because it has been mocked. Hell is angered because it has been reduced to nothing. Hell is angered because it is now imprisoned. He seized a body, but instead it discovered God. It seized earth and behold, it encountered heaven! It seized what it saw and was overcome by what it did not see! O death, where is thy sting? O Hell, where is thy victory?

"Christ is Risen and Hell is annihilated! Christ is Risen and the evil ones are cast down.

"Christ is Risen and life is liberated! Christ is Risen and the tomb is emptied of the dead: for Christ being Risen from the dead, has become the leader and Reviver of those who have fallen asleep.

To Him be glory and power forever and unto the ages of ages. Amen!"