by
Benjamin Baxter
on Mar 31, 2014 in
Catechesis
,
Featured
,
Learn & Live the Faith
,
Live in Christ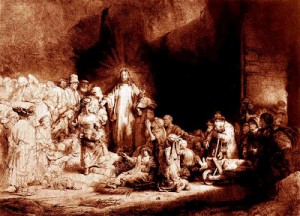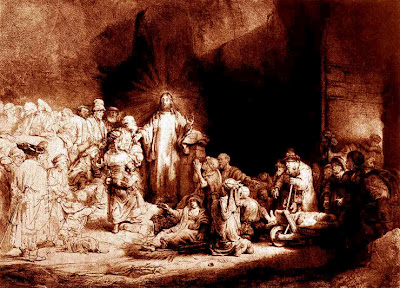 The Gospel accounts are full of good examples. Today's Gospel features a counterexample, a cautionary tale, albeit one which ends happily. It is one which demonstrates the answer to the old question: Why do bad things happen? The answer, as always, is this: They leads towards salvation.
Many Galileans had been at the wedding feast at Cana, as the Gospel specifically mentions that Galileans in general welcome him as a miracleworker. So what happens during Jesus' second visit? No sooner is he welcomed by the Galileans than a royal official among them requests on a second miracle. There is a kind of gall there. It's understandable because it comes from a father's love for his dying son, but there is also the side of it where the father approaches Christ not as redeemer or even a person but as a wish dispenser.
This is not to criticize a man's concern for his son's health, especially when his son is near death. He should have such a reaction, and he should approach Jesus with his request. He should have done it in love, however. Look at it another way: Would he have approached Jesus if his son had not been deathly sick? It doesn't look like it. Re-read this exchange, right after he asks for the healing:
Jesus said to him, "Unless you people see signs and wonders, you will not believe." The royal official said to him, "Sir, come down before my child dies." Jesus said to him, "You may go; your son will live." The man believed what Jesus said to him and left.
So far, the royal official believes only that Jesus speaks the truth. He does not believe that Jesus will bring forth new heavens and a new earth, to use the words of Isaiah. Only at the end of today's Gospel do he and his household come to believe in that different, better way. But for the suffering of his son turning into health, and but for him recognizing that Jesus did that, he would not have come to faith, at least the way he did.
This royal official does not depict how we should be, but he does often depict us as we are. Only when we are brought to grief do we request anything from God, and even when we do we often merely request something from him without coming to faith.
As we approach Easter, let us focus again on the joy of coming to faith, and let us ask of God for this grace. Let us do it out of our love for him, not as a bauble to avoid Hell but out of thanks for what he will do for us. Like the other Galileans at Cana, let it also be out of thanks for what he has already done.
I will praise you, Lord, for you have rescued me.