by
Barb Lishko
on May 15, 2018 in
Dating & Singles
,
Featured
,
Marriage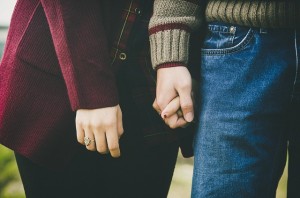 In my work preparing engaged couples for marriage, I find myself pondering what might have been different for us, if my husband and I would have been required to take the same prep that is currently offered in the Diocese of Phoenix. While we were married in Phoenix over thirty-eight years ago, the marriage prep was minimal.
It was the seventies, (need I say more). I had met my future spouse in a disco. Yes, God does answer prayers and work within the confines of our reality at the time. Mark was a Second Lieutenant in the Air Force, still wet behind the ears from the Academy, and in pilot training. Stationed in beautiful Arizona, he was "looking for love in all the wrong places." (wrong music genre, but appropriate for the story) I was in college and working full time at the local hospital.
I had been praying the Rosary for help in finding a good spouse. Other than that, it was work, disco, and homework. I knew my prayers were heard the night we met and began dating. Due to his flying schedule we could only see each other on weekends, but we made the most of the little time we had together.
Months later when he had graduated and received the assignment we never wanted, a remote tour to South Korea under Martial Law; he proposed.
The clock was ticking as he had orders to begin training outside of Arizona. We made a hasty appointment with the parish Priest who was also a family friend. I remember meeting with Father, I cannot recall what he said or if we took a marriage prep inventory or not.
Mark then departed after we set a date for the following November. I would see him only once more before he went overseas, and then not again until a few weeks before the wedding. No texting, emails, skype or similar communication, just letters that took weeks to arrive. We kept a steady stream of those coming back and forth across the Pacific.
You can bet we were not discussing the expectations we had for each other as husband and wife. Nor the best strategies for conflict resolution, finances, or effective communicating. We were going to have to learn on the fly in a very tense situation, while being alert to the fact that I might be immediately evacuated from country.
Would we have been receptive to a class on "Theology of the Body" or "Natural Family Planning" that my couples must take? I'd like to think so. Not unlike the couples I work with, we worked, went to school, and got the prerequisite fun in on the weekends. I couldn't have known then what I know now about the key importance of good marriage preparation.
In hindsight, I can clearly see that what we offer the couples now would have been so helpful, saving us from years of miscommunication and misunderstandings. It would have offered opportunities for deeper and more insightful discussion on areas that were simply avoided out of ignorance or not talked about out of fear. I believe it would have better prepared us for the storms that were just over the horizon we weren't even anticipating.
Yet, "That which doesn't kill us, makes us stronger." Thankfully, God was squarely in the center of our relationship. We hadn't learned yet the vital importance of praying together daily, of sharing what was on our hearts, and for me, just asking for what I needed from him rather than assuming he could read my mind. That last one took me decades to overcome.
One of our sons sent us a clip of a comedian talking about this very thing recently and he said something most profound, "women think a statement is a command, they don't just come right out and say what they want because they don't want to sound bossy."
He continued, "men want to do what women want, they just need clear commands." Even that little segment would have been helpful so many years ago, (well actually right up until last year).
By the grace of God, our faith, (hurt feelings, unnecessary arguments, lots of tears) and persistence, we discovered in the trenches, what would have been more beneficial in boot camp.
I have experienced eight years of accompanying these couples as they prepared for their own marriages. I'm blessed to see countless "ah-ha moments," and receive amazing positive feedback from the couples themselves about the classes. Good prep makes all the difference.
So here it is, if you want your marriage to succeed in a challenging culture that has itself been the casualty of many failed marriages, I invite you to take advantage of every possible avenue the Catholic Church offers for preparation. Don't let yourself be overwhelmed and think you can't fit another thing in your schedule, you are the greatest benefactor of the efforts you make. Think, happily ever after!
There is also a great online, pre-cana course that you can take advantage of if the prep in your Diocese is inadequate or needs a boost, www.catholicmarriagepreponline.com. Don't worry, I'm not getting any kickback here, just sharing a great resource!
May God in his abundant love and generous mercy grant you the most amazing happily ever after and help your marriage become the joyful witness this world so desperately needs.