by
John-Henry Westen
on Jun 05, 2014 in
Dating & Singles
,
Featured
,
Marriage
,
Parenting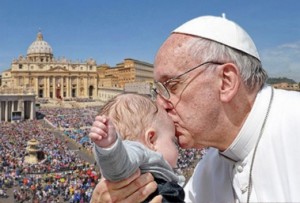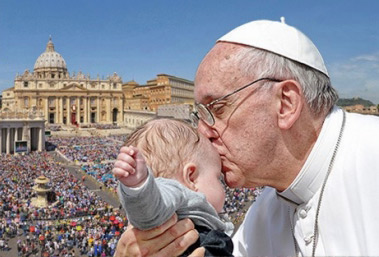 Following in the noble tradition of his immediate predecessors, Pope Francis encouraged married couples to have children and be open to life. In the homily at his daily Mass on Monday, the Pope said that the "culture of comfort" seeks to convince us: "It's better not to have children! It's better! You can go explore the world, go on holiday, you can have a villa in the countryside, you can be carefree…It might be better – more comfortable – to have a dog, two cats, and the love goes to the two cats and the dog."
Addressing 15 couples celebrating wedding anniversaries ranging from 25 to 60 years, Pope Francis focused his homily on Christ's example of faithful, fruitful love as a model of married love for couples.
He said that those couples unable to have children suffer a trial and often call on Christ to share in His act of creation.
However, he said the practice of rejecting fertility by choice for the sake of comfort is something that "Jesus does not like."
He spoke of "marriages, in which the spouses do not want children, in which the spouses want to remain without fertility." The Pope warned "in the end" such marriages "come to old age in solitude, with the bitterness of loneliness." He concluded, "It is not fruitful, [because] it does not do what Jesus does with his Church: He makes His Church fruitful."
Commenting on the Pope's remarks, Human Life International President Father Shenan J. Boquet told LifeSiteNews, that today the "'value' of a child is often seen in terms of his or her economic cost, and potential burden on the couple's lifestyle." As a result, "procreative and unitive aspects of marriage are separated and a couple becomes hostile to life."
"What the Holy Father is expressing is really what happens to a culture that embraces a contraceptive mentality, even among married persons," Fr. Boquet said. "Our culture is losing a basic understanding of the purpose of marriage – to bring new life into the world – and redefining marriage to emphasize our own desires."
"Widespread availability of contraception has swiftly, and dangerously, moved society away from a focus on family and community toward a focus on personal pleasure and fulfillment, leading to the disintegration of family life, the loss of regard for human dignity and even the acceptance of abortion," he added.
The recently canonized Pope St. John Paul II praised families that were open to having children. In his Lenten message of 2004, he commended "parents who willingly take on the responsibility of a large family, mothers and fathers who, rather than considering success in their profession and career as the highest value, make every effort to pass on to their children those human and religious values that give true meaning to life."
So, too, did Pope Benedict XVI, who in 2012 said that families that welcome children are a witness to "faith, courage and optimism."
"Without children there is no future," Pope Benedict observed in remarks directed towards members of the Italian National Association of Large Families. He hoped "adequate social and legislative measures will continue to be promoted to support and protect larger families, who are a source of wealth and hope for the entire country."