by
Dr. Paul Kengor
on Aug 02, 2012 in
Columnists
,
Featured
,
MyChurchParish.com
,
The Homosexual Agenda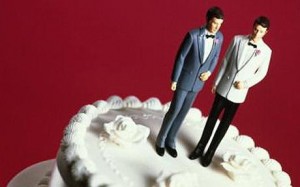 President Obama's position on gay marriage has won some converts, from (perhaps) the entirety of the Democratic Party to (especially) young people. As to the latter, one of them emailed me recently. A good-hearted, thoughtful young man, who this fall will be a freshman at a very liberal college in the Northeast, I'll leave him unnamed. His story, however, is instructive, and sheds light on an ancient morality tale worth considering right now.
The young man comes from a conservative evangelical family. He has progressively edged in a liberal direction. He read an article I had written on President Obama's gay-marriage advocacy. Though he disagreed with me, he was respectful. I appreciated that, and responded.
He objected to my point that legalizing gay marriage would represent a radical rupture not just of the definition of "marriage" but of "family." "How would that happen?" he asked. "I support gay marriage and think that if two people are in love, then they should have the right to be together with full benefits under the title of being MARRIED." He continued: "I really don't want to hear any religious arguments. Marriage is a secular act that can also be religious."
The young man was open to hearing my viewpoint. As he said, he didn't want to merely yell at me, "Oh my god! You're against gay marriage? Then you're stupid!" That's what he's sure to hear at the liberal college where his parents will be sending their lifesavings.
Though there were many ways I could have replied to this young man's email, my response focused not on his youth but, rather, the youth of all of us, of this entire generation, of the whole culture. Here was the thrust of my response:
Whether a society or people are religious or not, the most fundamental basis of society and peoples—literally since the dawn of humanity—has been marriage between a man and a woman. That bond is the cornerstone. To suddenly sever that bond is not only a radical rupture, but remarkably arrogant; it assumes that our current generation is wiser than the multiple millennia of civilizations heretofore. Google the word "matrimony." "Marriage" has always meant the marriage of a man and a woman.
We shouldn't mess with these things. Once we begin redefining and reshaping these things in each of our own images, we're in trouble. I ask progressives: Do you truly want the government to take unto itself the right to remold such ancient terms? (Answer: Yes, they do, but only when the government agrees with them.)
That question ought to give pause to libertarians who support gay marriage. Do they want to allow government this unprecedented, enormous moral power and authority, from which will flow all sorts of new, massive government redistributive power and authority? As Jennifer Roback Morse asks, do libertarians really want the federal government regulating (let alone defining) marriage? If they do, then they're favoring not small government but big government—actually, huge government.
Even most liberal Democrats (prior to President Obama) had voted to preserve marriage between a man and a woman. Witness the Clintons and congressional Democrats passing the Defense of Marriage Act in the 1990s.
Those against gay marriage need to know that not only are they in the majority today, but over the course of centuries and millennia. Our position is based not on the latest societal/cultural whim at the ballot box but on the inherited wisdom of billions of ancestors and thinkers preceding us. It is rooted in what G. K. Chesterton called "the democracy of the dead."
In his book, Orthodoxy, Chesterton wrote: "Tradition means giving votes to the most obscure of all classes, our ancestors. It is the democracy of the dead. Tradition refuses to submit to the small and arrogant oligarchy of those who merely happen to be walking about. All democrats object to men being disqualified by the accident of their birth; tradition objects to their being disqualified by the accident of death. Democracy tells us not to neglect a good man's opinion, even if he is our groom; tradition tells us not to neglect a good man's opinion, even if he is our father."
There is deep, accumulated wisdom in our long line of ancestors. To suddenly assume we know better, compliments of recent enlightened understanding, is self-righteous and short-sighted. Don't our ancestors—our dead—have any say? There were a lot more of them than us. Are we to judge they were mere brutes lacking our magnificent reasoning abilities?
There's something to be said about, oh, multiple millennia of consensus belief. It seems unwise to not give our ancestors any serious consideration, and to not at least consider whether we might be wrong on this particular issue.
Should the dead not have a vote, a say, in this?