by
Dr. Paul Kengor
on Mar 07, 2016 in
Columnists
,
Contraception & Abortion
,
Featured
,
Government & Politics
,
Law & Justice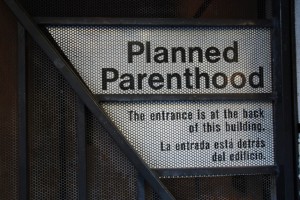 In what is being embraced by Hillary Clinton as the highest praise, Planned Parenthood, America's longtime leading provider of abortion, is enthusiastically endorsing Clinton as president. Clinton can boast the first-ever endorsement of a candidate in a presidential primary in the century-long existence of Planned Parenthood.
The Planned Parenthood endorsement contains this eye-opener from its leader, Cecile Richards: "Everything Planned Parenthood has believed in and fought for over the past 100 years is on the ballot." And the organization believes that no one fights for this more than Hillary Clinton, whom Richards and friends rightly view as the truest true believer.
As someone who wrote an entire book on Hillary Clinton, and has long followed her very carefully, especially on matters of her faith and abortion beliefs, I can say without equivocation that she is not mildly or even strongly pro-choice; no, Hillary Rodham Clinton is fanatically pro-choice. There is nothing more ideologically worthy to her. To borrow from Nancy Pelosi, this is political "sacred ground" to Mrs. Clinton.
In a statement, Clinton said she is "honored" by the endorsement. She assured Planned Parenthood, "As your president, I will always have your back."
When Cecile Richards invokes Planned Parenthood's past 100 years aside her glowing endorsement of Hillary Clinton, it naturally brings to mind the matron of Planned Parenthood—one Margaret Sanger, a hero to Richards and Clinton.
I've written before of the checkered history of Margaret Sanger, especially on race, which her devotees either excuse or avoid like the plague. There was her Negro Project, her May 1926 speech at a rally of the women's chapter of the KKK in New Jersey, her general championing of an ideology of "race improvement," and much more. It is no surprise that a group of African-American pastors are demanding the removal of the bust of the progressive icon from the Smithsonian's "Struggle for Justice" exhibit.
Sanger deemed certain human beings "morons," "idiots," "imbeciles," "human weeds," and "misfits." She wanted her Planned Parenthood to spearhead a movement to generate "a race of thoroughbreds" from the misbegotten "dead weight of human waste" soiling the national landscape courtesy of undesired and "unfit" breeders. She extolled Stalinist Russia's birth-control policies, and urged after a fact-finding visit there in 1934: "We [in America] could well take example from Russia, where there are no legal restrictions, no religious condemnation, and where birth control instruction is part of the regular welfare service of the government."
That's exactly where Clinton and modern progressives stand today: they demand that birth control be part of the regular welfare service of the government, and funded by taxpayers regardless of religious objection. If you disagree, the Obama administration will take you all the way to the Supreme Court. Just ask Hobby Lobby, Conestoga Wood Specialties, and the Little Sisters of the Poor.
None of Sanger's sordid history has deterred Hillary Clinton's unflagging admiration, just as none of the video exposes of Chianti-sipping Planned Parenthood personnel fingering their Caesar's salad as they discuss crushing unborn babies has deterred her crusade to keep America's largest abortion provider awash in tax dollars.
"I don't have all the facts but Planned Parenthood has apologized for the insensitivity of the employee who was taped," protested Mrs. Clinton of the Center for Medical Progress's video-sting revealing a Planned Parenthood employee casually discussing the "harvesting" of babies. "But for more than a century Planned Parenthood has provided essential services for women."
To Mrs. Clinton, the bad guys in the video-sting of Planned Parenthood were the video-makers—that is, the exposers, not the perpetrators. "I think it is unfortunate that Planned Parenthood had been the object of such a concerted attack for so many years," she complained, "and it's really an attack against women's rights to choose." To Mrs. Clinton, it's the exposers who are the attackers, not Planned Parenthood.
Clinton, whose spokeswoman says she has not actually seen the videos, nevertheless reaffirmed that Planned Parenthood does "really good work" and she remains "proud to stand with Planned Parenthood."
The organization gives more money to Mrs. Clinton (by far) than any other Democrat.
Fittingly, in 2009, Clinton proudly accepted Planned Parenthood's self-described "highest honor," its coveted Sanger Award. She gushed that she was "in awe of" Sanger. The then-secretary of state accepted her award at Planned Parenthood Federation of America's annual Awards Gala.
The admiration is mutual; thus the group's historic endorsement of Clinton.
Someone in the media who can get near Mrs. Clinton should ask if she's willing to repudiate Margaret Sanger and her organization's highly questionable and objectionable history in everything from race to the literal business of baby parts. Now that Clinton has received Planned Parenthood's endorsement, and promises to have its "back," it seems a fair thing to ask, doesn't it?