by
Lisa Hendey
on Feb 28, 2011 in
Health & Fitness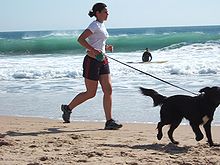 It's Monday, the day I normally wake up and recommit to leading a fit and healthy lifestyle. Today, my kids are off school, so I lingered in bed a bit longer than usual, lapping up the luxury of having teens who like to sleep in. Part of my mental wandering as I hit the snooze button was towards blogging, and how I want to start writing more frequently about trying to lead a healthy lifestyle.
Rising to a quiet house with still sleeping boys, I was tempted to hit the computer and do a quick google search on fitness topics to garner some ideas and then I had one of those "smack across the face" moments when I realized that I hadn't yet eaten breakfast or made any attempt at exercise and was yet readying myself to sit on my rear end at my computer for a few hours. Does writing about exercising burn calories? Not many!
So instead I tied on my walking shoes, grabbed my iPod and hit the door. It's cold outside (ok, California cold…48 degrees!), and the menacing grey clouds almost sent me back in to my treadmill, but I persisted. Normally on Mondays I meet my exercise buddy at the gym first thing after dropping off the boys, but a day off usually preempts the regular schedule and exercise falls by the way side.
Fitting exercise into our busy schedules is a perpetual challenge. I know very few people who crave a cardio workout. Most of us can find a multitude of excuses for putting off physical activity. Yet, it is such an important part of our overall health and well being. Equally important for me are the spiritual, mental and emotional boosts I gain from taking time to sweat. A walk reconnects me with the incredible beauty of God's creation and reminds me to thank Him for the bounty of blessings in my life.
So my erudite column on physical fitness will have to wait – perhaps until next Monday. In the mean time, have you had your walk today? Did you take the stairs to your office? Did you park in a remote spot in the parking lot at school or work and briskly walk to your destination? I'm working hard at looking for opportunities to work my heart and my mind throughout the course of the day. In my case, every little bit helps!
I found this great article from the Mayo Clinic on "Fitting in Fitness" – it offers several simple pointers for increasing our activity levels during our day to day routines.
[Originally published 2007]
(© 2011 Lisa Hendey)