by
Patti Maguire Armstrong
on Aug 03, 2019 in
Featured
,
Live in Christ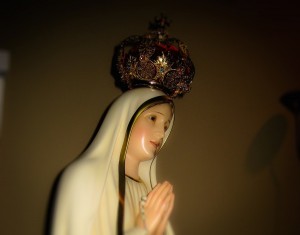 If ever there was a good time to make reparation for the offenses to the Blessed Mother, now would be a good time.  Even if you have already made the Five First Saturdays, it's something we can do again and again.
At Fatima, through the Blessed Mother's apparitions to the 3 shepherd children, the devotion to the Immaculate Heart of Mary was introduced.   During the July 13, 1917 apparition, the Blessed Mother told the children:  "You have seen hell where the souls of poor sinners go.  To save them, God wishes to establish in the world, devotion to my Immaculate Heart."
The Five Blasphemies
The Blessed Mother revealed to Lucia, after she became a nun, that there are five ways in which people offend and blaspheme against the Blessed Mother.
1) Against her Immaculate Conception.
2) Against her virginity.
3) Against the Divine Maternity, while refusing to receive her as the mother of mankind.
4) By those who publically implant in the hearts of children indifference, disrespect, and even hate against the Immaculate Mother.
5) By those who insult her directly in her sacred images.
The Great Promise
Our Lady told Sr. Lucia that she promised to assist at the hour of death with all the graces necessary for salvation all those who, on the first Saturday of five consecutive months:
Receive our Lord in Holy Communion while in the state of grace.
Recite five decades of the Rosary.
Keep Mary company for at least 15 minutes while mediating on the mysteries of the Rosary.
Go to Confession within the month.
Information taken from the book Spiritual Guide for the Salvation of Souls and World Peace.