by
Jason Liske
on Feb 22, 2013 in
Featured
,
Live in Christ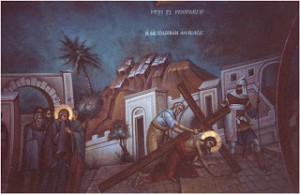 What is the place of failure in the Christian life?
Not long ago, I spoke with a Calvinist friend who has been "barred from the table" (not allowed to partake in the Lord's Supper) due to his personal struggles with sin.  As a Catholic, I can understand this, for we also refrain from receiving the Eucharist when in a state of mortal sin.  This friend mentioned that his being barred from the table has given him time to reflect on his relationship with Christ.  I can understand this too.
The life of a Christian is an utter paradox: we are told by Christ to be perfect as our heavenly Father is perfect, and yet we all fall short of the glory of God.  So how is it we live the Christian life?  By grace.
St. Justin Popovic, an Eastern Orthodox saint, writes: "If a man fights with sins and passions, this demonstrates that he indeed believes in the Risen Lord; if he fights with them, he fights for life eternal" (1).
This is the sign of the genuine Christian: the struggle, the fight, the carrying of the cross, and most importantly, the losing of that fight sometimes. Each time we fall, we rise again through the strength of Christ and His Cross, thus showing ourselves to be true disciples.
Nowhere in Scripture do we find the promise of ease and comfort; nowhere do we find that the Christian life is one of serenity and continual peace. No, our existence is a continual battle against sin and the passions and the devil. If one is coasting along, without any apparent problems, then it is time to worry and reflect, for surely we are neglecting the good fight. Yes, there are blessings and graces. But we are called to imitate Christ, to be nailed to the cross with Christ, to destroy all that is not of Christ within ourselves.
St. Methodius of Olympus wrote, "To be prepared against the entrance of the gales of the Evil Spirit, and not to be cast away or overcome, but to refer all to Christ, and strongly to contend against pleasures, brings greater praise than he wins who lives a virgin life calmly and with ease" (2), and Meister Eckhart declared that "perfection of virtue comes of struggle" (3).
We must take these words to heart. We know that in our weakness we will fall, but we also know that by the grace of God we will rise again.
1 – From here.
2 – The Banquet of the Ten Virgins, qtd. in Fremantle, A Treasury of Early Christianity
3 – The Talks of Instruction, IX