by
Lisa Hendey
on Jan 12, 2013 in
Featured
,
Health & Fitness
,
On Books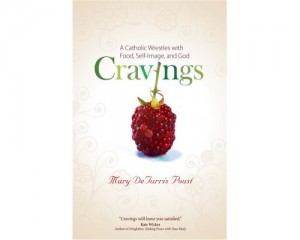 Every once in a while, a book lands in your hands at the perfect time. For me, that happened this month when I received my lovely review copy of Cravings: A Catholic Wrestles with Food, Self-Image, and God by my friend and fellow writer Mary DeTurris Poust. The book arrived just in time for me to enjoy and pray with during a personal period of transformation in my own life, but it's actually perfectly poised to aid you in your own spiritual and health journey as we begin a new calendar year. Even if "lose weight" isn't on your list of resolutions, you'll enjoy  Cravings for the spiritual and emotional insights it will lead you to discover in your own life.
I want to say a word about my friend and fellow Catholic author Mary. While we've known each other online for years, we recently had the opportunity to meet in person and spend time together "in real life". So when I read Cravings, I heard Mary's voice in my head — as though she herself were reading the book to me. "Crazy?" you're thinking to yourself. But the truth is, this topic is so personally approached by Mary and those who share their stories of struggle and triumph that you feel you have a companion along your path to meaningful change in your life. Each of the book's chapters contains "food for thought" reflection questions, a "practice" or exercise that lines up with the content of the chapter, and a meditation, lovingly penned by Mary that will doubtless inspire you and lead you to your own personal prayer.
Today, I'm happy to share an excerpt of Cravings: A Catholic Wrestles with Food, Self-Image, and God and to give this book my highest recommendation.
The Strength of Surrender
Becoming whole and holy requires us to move away from the microwave mentality toward something slow, basic, simple, real. It's the impetus behind the slow food movement, which attempts to reverse the fast food movement, as well as the locavore movement, organic movement, vegetarian movement, and all of the many other "movements" people today embrace in an effort to bring some meaning back to the mundane, to make their meals—and by extension their lives—less frantic and more full.Stripping away to experience fullness: It's a paradox that mirrors so much of what we're discussing in this book, that seemingly opposite things are more than compatible; they are mutually beneficial.
Body and soul, food and faith, simplicity and fullness. We have to move beyond the dualism our culture insists exists between these elements and rest in the connection that will allow us to become our truest, healthiest selves in every aspect of our lives. Finding and resting in that connection requires more than reading books and making home-cooked meals; it requires a deepening of our relationship with God, the source of all connection.
"Come to me, all you who labor and are burdened, and I will give you rest. Take my yoke upon you and learn from me, for I am meek and humble of heart; and you will find rest for your souls. For my yoke is easy, and my burden light," Jesus tells us in Matthew 11:28–30.
So often we are heavily burdened by this battle with food and weight and ego. So often we labor, or in this case, diet with no rest from the guilt and fear and restrictions we place on ourselves. There is little room for joy and peace and resting. Like Barbara, we diet and punish ourselves and lose weight, all the while thinking we are trusting God, when in truth we are holding on for dear life to all our misconceptions, the biggest among them being the belief that we have to do it on our own. We don't. We can't. We have to surrender, really surrender, to the One who holds the reins and will lead us where we need to go.
Excerpted from Cravings: A Catholic Wrestles with Food, Self-Image, and God by Mary DeTurris Poust