by
Theresa A. Thomas
on Oct 23, 2012 in
Featured
,
Health & Fitness
,
On Books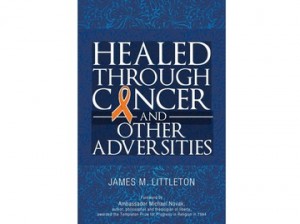 Healed through Cancer by James Littleton is a treasure trove of faith, scripture quotes, and brotherly advice, as well as a personal account of one man's journey through cancer and the fruits of that journey. With depth and understanding, Littleton takes his readers through the physical, spiritual, and emotional "valley of death" as he learns of his Chronic Lymphocytic Leukemia cancer diagnosis, decides upon and endures various treatments, and wrestles with the issues of living his faith through this experience.
In Healed through Cancer, the reader will read moving diary posts that contain wit and wisdom, and consider life's big questions in relationship to suffering, such as the age-old query, "Why ME?" Littleton also addresses the general question that has plagued man from the beginning of time—why is there suffering in the world and what is its use?
In Healed through Cancer, Littleton :
-shares the four greatest gifts parents can give their children
-offers concrete suggestions for those plagued with worry
-suggests how the role of the sacraments, particularly the sacrament of Confession, aids in total healing
-explains the potent power of prayer using an analogy of donating blood
Imagery is rich and examples are many in this chronicle of faith and fortitude. The author includes an appendix with an examination of conscience and passages of scripture that address healing. Littleton stresses that nothing happens without God's permitting it, and that suffering, when united to Christ's on the Cross, can be redemptive. His story of faith and hope will encourage the cancer stricken, buoy their families, and give faith and light to a suffering world.