by
Patrice Fagnant-MacArthur
on Jul 03, 2012 in
Featured
,
On Books
,
Parenting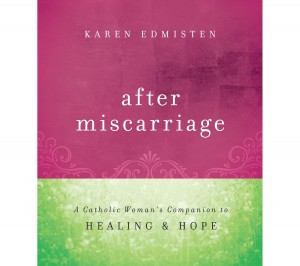 Baby loss through miscarriage is one of the last taboo subjects in our society. Because in most cases, it is largely a hidden loss, the grief associated with it is all too often dismissed easily by people who just don't understand. Karen Edmisten and those who contributed to After Miscarriage: A Catholic Woman's Companion to Healing and Hope are working to change that by sharing their own stories of loss.
Edmisten has suffered the pain of several miscarriages and she willingly opens her heart and the pages of her personal journal in order to help others. She also offers advice for those trying to help someone suffering through this loss. "All we really want is a friend who will sit with us and let us be what we are: sad. Let us feel what we're feeling: pain. Let us do what we need to do: cry."
These women also stand united in the belief that every life is precious, even those that never make it to their first breath. Those who carry these children, as well as those who pray for these children, are forever touched. These children are also safe in the arms of God. They never sinned. They are saints, waiting for their families to join them in heaven.
Mary DeTurris Poust speaks of the loss of a baby she named Grace: "Grace had shaped our family by her absence rather than her presence. I am very much aware that life would be very different had she lived. She managed to leave her mark on us, even without taking a breath. . . what a sorrowful and yet beautiful impact she had on us."
Edmisten also speaks of the pain of Mother's Day for those who have lost a child, especially for those who have no children in this world. She encourages others to reach out to these "invisible mothers" – "A card, a sympathetic e-mail, a phone call from a friend who understands – having someone reach out means a lot."
After Miscarriage is a painful book, but also beautiful in its reflections, love of life and hope for eternal life in which parents and those they lost will be reunited. I would recommend it for any mother who has lost a child through miscarriage, but I would also recommend it for anyone simply trying to better understand the grief that these women experience. Thankfully, I have never lost a child through miscarriage, but I've tried to help my friends who have. I'm sure I've said or done the wrong thing in my efforts to be helpful. These reflections offered me a much better window into this pain.
This review was written as part of the Catholic book reviewer program from The Catholic Company. Visit The Catholic Company to find more information on After Miscarriage.