by
Patrice Fagnant-MacArthur
on Feb 03, 2014 in
Featured
,
On Books
,
Parenting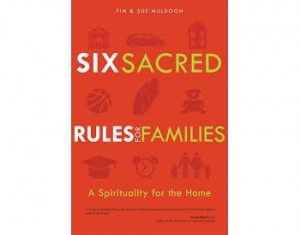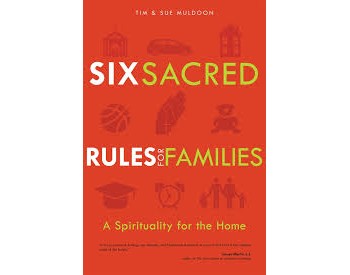 Why should your family have sacred rules and what should they be? Those are the questions Tim and Sue Muldoon set out to answer in Six Sacred Rules for Families: A Spirituality for the Home (Ave Maria Press, 2013). As the Muldoons state, "Rules keep everyone on the same page; rules help us plan for the future and enjoy the present . . . [They] help one another grow in love."
The six rules they have established for use in their own family of three adopted children, and which they share on these pages, are based on St. Ignatius of Loyola's "The Spiritual Exercises." Those rules are: 1) God brings our family together on pilgrimage, 2) Our love for one another leads to joy, 3) Our family doesn't care about 'success,' 4) God stretches our family toward his kingdom, 5) God will help us, and 6) We must learn which desires lead us to freedom.
The Muldoons begin by emphasizing the role of faith and prayer in one's life. Parents cannot hope to pass on faith to their children of they don't cultivate it first in themselves. "For followers of Jesus, it's about faith that God is in charge, that our  lives have meaning, that love is a window to eternity." This does not meant that we will be spared suffering, but rather that we will be able to see both joy and pain as "moments in a much longer story."
The Muldoons then examine each of the six rules, offering concrete examples of how these rules are put into practice in their own family life.
The last part of the book offers four examples of lectio divina that can be used with a family and the lessons that those stories contain for family life. The biblical stories that are examined are those of Zaccheus, The Prodigal Son, The Good Samaritan, and The Wedding at Cana. There is also a section on discernment and reasons why going to Church is important.
Six Sacred Rules for Families offers a blueprint for establishing a guiding plan for family life. These rules will help all members of a family "to live life to the full as God intended."