by
J.Q. Tomanek
on Apr 22, 2013 in
Featured
,
Marriage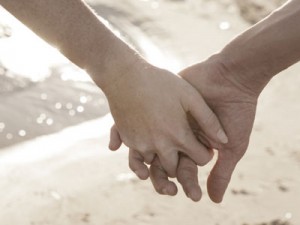 Dustin, before we get started talking about the conjugal act of marital intercourse, why don't you introduce yourself for a moment. Are you married? How many kids do you have? How do you bring home the bacon? What is Engaged Marriage?
DR: Thanks for having me! I'm 33-year-old Midwestern who's been married to my high school sweetheart for 12 years. We have three kids ages 8, 5 and 2 ½.
I manage a transportation engineer group, so we do fun things like study traffic, design intersections and do our best to alleviate congestion. I also run two blogs, FitMarriage.com and EngagedMarriage.com.
Engaged Marriage is a resource for busy couples who are looking to enjoy more quality time with their family and live a married life they love.
How did you get started blogging about marriage? What was your initial goal that you wanted to accomplish?
DR: I got the idea to start a marriage blog for busy younger couples back in 2009. After several years of presenting on Sexuality at Pre-Cana conferences in our Diocese, I had the itch to do more and to connect with couples where they already hung out – online. After a few too many fruity drinks on vacation in Cancun, I was floating in the ocean and the idea for this blog and topics it should cover came to me.
I came back and totally immersed myself to learn everything about building a site and developing high-quality content. It's been a fun and very fulfilling ride.
Engaged Marriage has become a community, a passion project and a growing side business as well.
Does your wife blog too?
My wife Bethany writes very occasionally on Engaged Marriage, but she does not have a blog of her own. However, like most areas of our life, she's a huge help in running the site since she works behind the scenes to proof posts and act as a sounding board for some of my more crazy ideas.
Your blog on marriage covers many topics including: book/product reviews, children, communications, finance, house management, fulfillment, marriage, romance, sex, spiritual life, and time management. From your experience, what do your readers most like to read from you?
DR: Without question, the topic that has the most passionate following is Sex – but not the "how to" posts you'd find on other sites. My wife and I practice Natural Family Planning (more on that below), and I've written extensively about it. That always creates a reaction and has helped attract a wonderful community of NFP folks to the site.
As far as raw viewership goes, posts on Time Management, Romance and Money are the most popular. I take a very practical approach to everything we do, and people seem to resonate with this how-to advice. The site has over 2 million page views and most come in these areas.
You are a younger father and husband that is living his faith in the modern world. What attracted you to follow the Church's teaching regarding contraception?
DR: Our story toward NFP and away from contraception is pretty typical. We used contraception early in our marriage, as we felt there were no alternatives. After some fateful encounters inside and outside of the Church, our attitudes toward children suddenly changed…we actually discovered NFP while planning for our first baby. 
After diving into the teachings on the topic, we decided to get training and fell in love with the practice of NFP. Nine years later, it's been one of the best things we've done for our marriage and our family.
On your website, you have written about Natural Family Planning. Can you tell us what that is? What method if any do you use? Do you endorse a certain one?
DR: Natural Family Planning is the practice of using natural means to identify a woman's fertility cycle and plan your family accordingly. It doesn't involve any artificial means, including contraception.
We were originally training in the Couple to Couple League method and enjoyed it. In recent years, we've taken advantage of technology and now use the Marquette model which incorporates the use of a fertility monitor. We love this method!
Men and women are bombarded with images of sex all the time and that makes chastity more challenging. If spouses have discerned that now is not the right time to have another child, what are some good tips for men to keep chaste during the fertile days?
DR: This is a real challenge to all of us, women included, but I can obviously speak best for the guys. The best thing you can do is stay romantically connected to your wife and express your love in other, non-sexual ways during those fertile days. That's not something society promotes for us, but it's one of those things that makes marriages that include NFP so much richer.
You'll find that you really do have self-control, and you'll find an appreciation for sexual love that doesn't always have to be physical. You'll be a better man and better husband for it…and you'll really appreciate those next non-fertile days!
As Catholics, I find we are the least prudish people. We enjoy drink, dance, cheer, paint nudes on walls or sculpt them on rock. How to you see us in regards to sex? Is there work to be done in this marital aspect? I find many people kind of avoid the topic rather than ask questions or seek advice. Then they seek answers from secular sources like GQ or Men's Health. Do you recommend a good source or place that a virtue seeking man could find solid information in these areas?
DR: I start every presentation that my wife and I give in the Church by expressing that the Catholic Church in the sexiest church on earth. It always gets a laugh because the culture's perception is that the Church is prudish and non-sexual. In reality, it holds sex to be sacred and holy rather than just a form of entertainment, but it is absolutely encouraged and revered.
John Paul II spent a good deal of his papacy studying and praying about sex and the sexual mystery that occurs between men and women. The Theology of the Body dives really deep into these topics.  And he was the Pope!
My best advice to men is to not get concerned about technique (which is what those magazines are supposedly "teaching") and to instead focus on really making love to their wives. This goes beyond having sex when conditions are perfect and opens up the relationship so that sex becomes the deepest form of communication between a couple, something truly holy.
You aren't gonna find that in GQ.
How do we compare with say our Protestant brothers and sisters or Mormons? Is there anything we might learn from them in regards to encouraging great sex between married couples?
DR: I think they do a better job of verbalizing the fact that Jesus is part of their marriage and their life.  This seems to bring a joy that surely transcends into their intimate life. We have that same belief in our Church, but we're not always the best at talking about it or expressing it through in our daily lives.
I'd say that many Protestant churches do a good job of encouraging a more open dialogue about sex and it's important to a healthy relationship. I see advertisements for workshops and speakers on the topic of having a better sex life in other churches, but you don't see enough of those resources promoted in the Catholic Church in my opinion.
We live in a pornucopia culture. Imaginary sex is at anybody's fingertips. Men may think they can treat a woman in a similar way and then women may be uncomfortable doing anything to add "spice" to a marriage. Assuming a couple is following Church teaching, how do you recommend couples engage each other if they have different desires in their sexual lives? How can a spouse communicate such intimate issues?
DR: This is a tough question, and I certainly haven't counseled other couples to know enough about these kinds of specific struggles. However, I do think that the rules of all good communication should apply.
At the simplest level, the most important thing is to talk about it. Men tend to keep their feelings bottled up and women often assume their husband knows how they feel. This can create a lot of unnecessary grief – talk it out!
It's funny, but couples have the toughest time talking about sex and their need for intimacy. I think this is one big area where NFP helps to create stronger marriages. It requires openness, discussion and understanding between the couple when it comes to all their decisions around sex. That's powerful.
Ok, let's say that you have a cousin about to get married. He is striving for holiness and has chosen a holy woman of God to be his bride. What book would you pass along to him regarding Christian marriage? Would it be the same book you would give a colleague that is not even Christian?
DR: I'd recommend "Good News about Sex and Marriage" by Christopher West for the Christian who has any questions about sex in their marriage. It really breaks down some complex teachings and makes them very tangible.
For overall marital bliss, for Christians and non-believers, I highly recommend "The Five Love Languages." It will help any couple communicate better and understand their spouse's needs more clearly. 
I see you have written a handy marriage makeover book. What audience do you have mind regarding this work? What are the key themes of the book?
DR: 15 Minute Marriage Makeover is a collection of 28 short experiences that a couple can enjoy together. It will bring them closer in the areas of Sex and Intimacy, Communication, Romance and Money. It was written with younger, busy couples in mind and every experience can be completed in less than 15 minutes. Less time and more love!
Dustin, thank you for your time in responding to these questions. Also, thank you for sharing your thoughts and work you do for building up Christian marriage!
Follow Dustin at his Engaged Marriage facebook page. For those 140 character updates, here is his Twitter handle @engagedmarriage.
This article originally appeared on Ignitum.com and is used with permission.
He is also working on a time management project that is focused on helping Family Leaders get control of their schedule and enjoy more time for what matters most in their lives.  Go to timetothrive.co for more information.