by
Patti Maguire Armstrong
on Jan 23, 2013 in
Contraception & Abortion
,
Featured
,
On Books
,
Women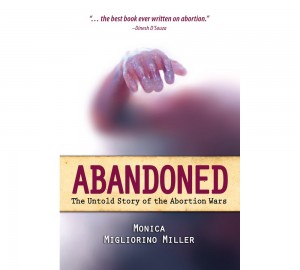 If you knew beforehand that a gunman planned on going to a kindergarten class at Sandy Hook Elementary School in Newtown, CT, would you do everything in your power to avert the violence and save innocent lives?
During a news conference on January 16, President Obama expressed that if we could save even one life from violence, we have an obligation to try. "Because while there is no law or set of laws that can prevent every senseless act of violence completely, no piece of legislation that will prevent every tragedy, every act of evil, if there's even one thing we can do to reduce this violence, if there's even one life that can be saved, then we've got an obligation to try," he said in remarks about the shooting and announcing new executive orders promoting gun control.  President Obama's compassion for those killed in school shootings, has been met with irony among pro-live advocates, given the disconnect on defending some lives while advocating for abortion on the other.
Monica Migliorino Miller, PhD., nationally acclaimed pro-life activist, agrees that we have an obligation to work to save lives from violence.  Forty years ago, the U.S. Supreme Court made abortion legal. For thirty-seven of those years, Miller has been on the forefront of fighting to save babies from the violence of being killed in their mother's wombs—lives just as precious as those lost at Sandy Hook.
Miller is the founder of Citizens for a Pro-Life Society, the co-founder of The Nationwide Rally for Religious Freedom, and an associate professor of religious studies at Madonna University. In her new book, Abandoned: The Untold Story  of the Abortion Wars she reveals the little-known struggle of what it means to confront the culture of death head-on and fight for the right-to-life.
Her baptism into the cause for life began with a form of activism intended to stir controversy in order to attract attention.  Joe Scheidler, National Director of the Pro-Life Action League planned sit-ins while he was the Executive Director of the Illinois to Life Committee.  The goal was to interfere with business at abortion clinics to save lives and then challenge the right to abortion in the courts. Miller participated in that first sit-in to occur in Chicago in 1978.
"Those who sit-in perform a concrete witness to the mothers, the fathers, the abortionists and the community by demonstrating that pre-born children slated for death are worthy of defense," she wrote. Thus began a form of activism in which Miller was willing to serve lengthy jail sentences. "Little did I realize that the decision I made that day would decide the course of my pro-life journey."
While preparing lunch one afternoon, she contemplated the commitment which became her course for life. "I thought, I'm not living in a normal world anymore.…I could no longer consider myself a normal person.…No, I had to be seized by a radical act. I had to drop everything—forget about milk and lunch. Babies are being murdered. They are being murdered down the street, in my own town. I know about it and I have to give up my life and do something about it!"
If the World Hates You
And so it began. There have been but a few brief moments when discouragement threatened to overwhelmed her. One time while side-walk counseling at a Chicago clinic, she was confronted by women walking to a nearby rally for the Equal Rights Amendment.  Miller felt emotionally exhausted by the hostility and misunderstanding to which she was subjected, but found comfort in the Gospel that day, "If you find that the world hates you, know it has hated me before you. If you belonged to the world, it would love you as its own; the reason it hates you is that you do not belong to the world. But I have chosen you out of the world…." (John 15: 18-19).
It was all the refreshment she needed, then, and now as Miller continues a fight in which she does not count the cost. It would be easy to look at forty years and question the success of the pro-life movement, but as Miller explained, success is measured in love, one life at a time.
"When the parents of a pre-born child schedule an abortion, in effect, their baby has become abandoned. To block the door to the abortion chamber may be the only act of love performed for that child in his life. Even if killed by the abortion, the child did not leave this world unloved. Someone performed an act of sacrifice for him. Therefore, don't ask only how many babies have been saved, ask first how many babies have been loved."  Thankfully, there have been many saves, some quite dramatic, that are recorded in the book.
Readers of Abandoned will be introduced to the evolution of the pro-life movement through Miller's experiences, where pro-lifers once chained themselves to machines, and found creative and drastic ways to impede abortion doctors from getting to work.  She recounts arrests, court trials, jail terms of pro-life activists, and a disturbing detailed account of the finding of the victims of abortion in clinic dumpsters. Stories include leaping across subway tracks to blot out abortion advertisements; witnesses given a list of words banned in a courtroom to be replaced with sanitized substitutes such as "medical equipment" instead of "suction machine"; an encounter with a supposed-nun working for an abortion clinic, and the discovery of a pet cemetery burning the remains of the aborted unborn with dead animal carcasses.
Abandoned provides a record of one of the most important moral dramas of our age. Well-known pro-life commentator Jill Stanek says of Abandoned: "It is a shocking immersion into the depths of the American battle over abortion." This book is an important record of a troubling time in America and one of the few books that rips the veneer of normalcy that covers the injustice of abortion, while providing enormous philosophical and spiritual insight into the essence of legalized abortion.
Miller eventually married fellow pro-life activist, Edmund and they have three children. After having a family, she continued her pro-life leadership but began to avoid pro-life activity that could risk jail time.  Ultimately, being truly pro-life means never quitting as long as abortion is legal, so she fights on, in spite of the re-inauguration of the most pro-abortion President our country has ever had, and in spite of the 55 million lives that have been lost to abortion.
"You can't live your life as if everything is normal," Miller says. "Just as the Newtown shooting was a horrible tragedy of murdered innocent children, abortion does the same thing. I hope Abandoned will cause people to wake up and face the attack on innocent life."
Miller will be at the March for Life book signing on January 24th at the National Shrine of the Immaculate Conception in Washington, D.C. To schedule Monica Miller for an interview, contact Gail Coniglio at Teresa Tomeo Communications (954) 554-3967 or (Enable Javascript to see the email address).