by
Marybeth Hicks
on Sep 05, 2012 in
Columnists
,
Contraception & Abortion
,
Featured
,
Parenting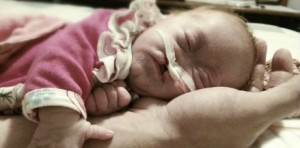 Ruth and Eric Brown didn't expect anything to be wrong.
At 20 weeks pregnant, Ruth had no indications her baby was anything but perfect.
So they were completely unprepared for what they learned at a routine obstetrical ultrasound: Their third child, daughter Pearl Joy, was profoundly underdeveloped.
Pearl was diagnosed in utero with alobar holoprosencephaly (HPE), a neural disease in which the brain and facial features do not form completely. Usually, babies with HPE do not survive a full-term pregnancy. Or if they do, usually they die within hours or days of birth.
Usually.
Pearl Joy Brown is unusual. Some would say remarkable.
At 5 weeks old, Pearl is defying all odds and every medical assessment that treated her, from birth, as a person trying to die.
From the day she was born, her parents received medical support in the form of hospice care, on the assumption that their role would be to help their daughter pass away peacefully and without pain.
Pearl had other plans. And she isn't just surviving, she is thriving.
Flash back to the day the Browns learned Pearl was not perfect.
After viewing Pearl on an ultrasound monitor, the obstetrician curtly told the couple to meet him in his office. There, without much by way of comfort or compassion, he informed them the next step would be to induce labor to abort the pregnancy.
The Browns asked for time to think it over.
They are Christians, and while they are not political people, the Browns are pro-life. Even when faced with a devastating diagnosis, and even though Ruth's physician recommended that they terminate their daughter's failing development, the Browns remained true to their most deeply held conviction about her intrinsic value as a human person.
When the doctor rejoined them, they announced their intention to carry Pearl to term, whatever that might entail. That's when the physician pulled out graphic pictures to show the couple just how malformed their daughter would be. Incredulous that they would not follow his advice, he announced he would no longer work with the couple and referred them elsewhere.
Ruth and Eric were undeterred. Despite a diagnosis that was "not compatible with life," the Browns accepted that their daughter's life was theirs to give, but not to take away.
"Having that diagnosis at 20 weeks meant we knew that when we cut the cord, we where cutting off her life supply," Eric says. "Yet while we waited for her to be born, she was moving around inside of Ruth and it felt like she was with us; like the five of us were all together."
But cutting the umbilical cord didn't end Pearl's life. Instead, she has proven herself a fighter who is defying all odds and using her imperfect, profound little body to reach into the hearts of people far and wide.
Across their Nashville, Tenn., community and into the far reaches of cyberspace, Pearl Joy Brown has stirred friends and strangers alike to rally around her family, enveloping them in care and prayer.
Now, the medical staff at Vanderbilt University Hospital where she is being treated have created a care plan — a life plan — for Pearl, acknowledging that this tiny soul appears to be going about the business of living, not dying.
And just by living, Pearl is changing the world around her.
"I see the humanity of an unborn baby more clearly than I ever did," her father says. "And because of Pearl, I have fallen in love with humanity once again. For years I was cynical, but even in the worst of this, I see people connecting, responding, and walking with us.
"I don't know how long we have with Pearl, but I believe one day she'll be made whole. Now I'm not even sure of what that means."
Perhaps wholeness means Pearl will be completely developed within a metaphysical body, as Scripture tells us to expect.
Or perhaps wholeness means the rest of us simply will see Pearl as God already sees her — complete and perfect in his image and likeness.
If you want to see what a perfect little baby Pearl Joy is, or wish to offer the family your support, visit PearlJoyBrown.wordpress.com.