by
Kim Heilman
on Mar 09, 2018 in
Education
,
Featured
,
Parenting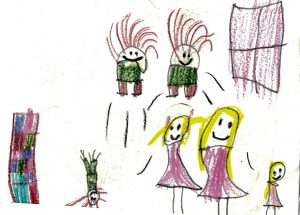 Welcome back to a day in my life, which can be a bit crazy, being the mother of now 7 little children, all under the age of 12. In Part 1, I ended by mentioning Mid-Morning Prayer Time, which is where I'll pick up today.
10am Mid-Morning Prayer
At around 10am, when the children are done with their school, and I've checked and graded it, I call them all to the living room for prayer.  We begin with a hymn, I ask for intentions, which are often very sweet, we pray a short prayer like the Memorare, and then we close with a hymn.  That's it.
For example, during the Christmas season we almost always sang Good King Wenceslaus, because the boys love all those verses about kings and pages and fierce blizzards, and also O Tannenbaum, because we're German, and it's fun to sing in a foreign language.  (Well, maybe we're a bit pagan too?  A whole song glorifying a tree?  That's not a hymn.)
During Lent, it's O Sacred Head Surrounded and Lift High the Cross because these are two of their favorites.
When we're finished, we do a review of everyone's Latin vocabulary.  Sometimes we play Latin Around the World, but most days, I call out the English, and they shout back the Latin.  And yes, it's shouting because they all want to be heard.  Sometimes this gets to be very loud and chaotic.
When we're done with Latin Review, the Eldest takes the younger children and disappears.  Glory be to God in the Highest. (I'd say Alleluia, but it's Lent, and we're not supposed to say that word.)
With the younger children, I commence Song School Latin from Classical Academic Press, which they ardently insist is their favorite school to do. And when that's done, we finish up with Math and Grammar.
Then it's my favorite part of the morning: Outdoor Recess Time! While the children are frolicking around outside, I fold the first load of laundry and put the second load in the dryer. I also begin heating up leftovers for lunch.
11:15am Lunch
While I'm reheating yesterday's beef enchiladas or some other such appetizing dish, the children are coming in from outside, and then they set the table.  When everything is ready, we begin with the Angelus and the Meal Prayer.
While we eat, we listen to audio books from Audible, because on most days I just want to zone out.  (The children are forever asking me questions all. day. long. and my brain needs a rest.)  Recently, we finished Ralph Moody's 3rd book, The Home Ranch, in his Little Britches series.  Now we're listening to The Return of the King.
When we're finished with lunch, each child clears away his or her dishes and has another chore to do.  For example, the Eldest wipes the table, Child #2 sweeps the floor, Child #3 hand washes any dishes that cannot go in the dishwasher, and Child #4 dries.
At this point, I read aloud.  Generally I chose something we're reading for history, as I prefer to do history as a group.  We just finished reading Knights of Art, which detailed the lives of the Italian Renaissance painters, and today we began Saint Francis of the Seven Seas by Albert Nevins.
12:15pm Blessed Quiet Time
I usually read to the children until I can't keep my eyes open any longer.  You know, for like 15 minutes.  Then it's that blessed time called Quiet Time, wherein all children are herded to the basement for about an hour.  They are forbidden to come upstairs during this time, unless of course something serious happens, in which case there had better be blood to prove its gravity.
In any case, almost every day I lie down for about twenty minutes.  Then, I make myself a cup of steaming, hot tea and head over to the computer to do a little work in peace. If time allows, I read a book too.