by
Shawn Carney
on Mar 10, 2013 in
Contraception & Abortion
,
Featured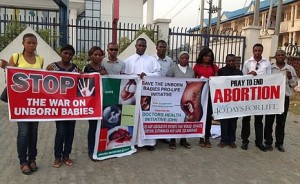 I just returned from a visit to the Memphis, Tennessee 40 Days for Life campaign and am getting ready for a trip to California, where there are currently 33 vigils — the most of any US state!
40 Days for Life has spread to many places, as God took this effort from Texas to 481 cities. But there was one place I never imagined it would go — the continent of Africa.
The first African campaign wrapped up in Uganda last November. This time, there are two on the continent — Cape Town, South Africa and Abuja, Nigeria.
Don't miss these amazing details about the Nigerian campaign, plus more pictures!
—————————————————–
ABUJA, NIGERIA
—————————————————–
Abortion is supposed to be illegal in Nigeria, but Marie Stopes – one of the world's largest abortion businesses – has entered the country under the guise of "family planning" and has already made inroads in 9 of Nigeria's 36 states.
"I can testify that abortion is common and practiced quite secretly. Several factors such as poverty and shame of being a single parent give rise to this," said Kelechi Anyaghara, one of the people who brought 40 Days for Life to Abuja, Nigeria's capital.
Kelechi became aware of 40 Days for Life after seeing it action in Milton Keynes, England, where she was working as a volunteer for a British pro-life organization. She then joined with others to launch the Save the Unborn Babies Pro-Life Initiative in Nigeria, which just started in December. From that effort, the 40 Days for Life campaign began.
She was in England recently, where she talked about the group's work – and met with 40 Days for Life's national director, David Bereit, as well as 40 Days for Life leaders from across the UK.
"I noticed a few others were getting tissues out as Kelechi told us of her work in Nigeria, holding as many as four church talks per day to hundreds of people hungry to hear about abortion, purity and contraception," said Andy Burton, who directs the Milton Keynes campaign. "Kelechi has many stories to tell of babies being saved and mothers helped."
"Our group was invited by Dominion City Church in Abuja for two days pro-life training for their church members," Kelechi said. They also visited Out Station – a rural area – for another training session.
The pharmacist there meets many young pregnant women in his job who come seeking abortion. The message of rejecting abortion and embracing abstinence is greatly needed, he told her.
"He linked us to a pregnant lady seeking abortion," Kelechi said. "The coordinator in Nigeria said he is still trying to discourage her from abortion — and by God's grace, this will be our fourth saved baby if we succeed."
The educational effort will also be moving into schools in the area. They've received an invitation from one secondary school and are hoping to be approved for other visits.
After a series of four presentations at one church, she noted that ''their positive response was very overwhelming, which shows that Nigerians love life."
I am humbled by all of this and grateful to God for all he has done – and all He continues to do.