by
Nancy Jo Sullivan
on Mar 12, 2012 in
Featured
,
Live in Christ
,
MyChurchParish.com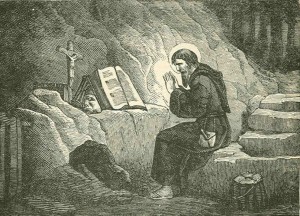 The brief reflection below is based on a 3-Minute Lenten retreat brought to you by Loyola Press. At the bottom of this reflection is a link for you to access the retreat.
About 10 years ago Sarah, my Downs syndrome daughter, was asked to the senior prom by Chris, a disabled boy she had known since birth. Before Chris and his parents arrived at our home, we helped Sarah get ready.
Dressed in a powder blue gown, Sarah stood in front of her bedroom mirror, beaming. "I am going to…to…look beautiful." She stuttered as her two teenage sisters curled her hair and polished her nails.
Her freckled face glowed as I brushed some color onto her cheeks. While helping her put on a strand of pearls, I told her: "Sarah…You look like a princess…"
As Sarah carefully centered a silver tiara on her head, she smiled at her reflection. "Now I'm ready for…for…the prince." she said.
During this season of Lent, take some time to stand in front of the mirror of God's love. Adorn your face with the glow of hope. Polish your heart and remember the Lord died for you. Don the garment of faith and anoint your head with the crown of salvation.
Get ready for Easter. Your risen Prince will be here soon.
Click here to enjoy your 3-Minute retreat.
____________
Editor's note: Loyola Press recently launched the Finding God Video Contest to encourage children to find God's presence in the every day. We're inviting schools and parishes to enter the contest by submitting short videos answering the question: Where do you find God?
The winner of the contest receives Finding God 2013 textbooks for grades 1-6 at their parish or school. Online voting will determine the winners, who will be announced at the National Conference for Catechetical Leadership on May 8th.  This contest is a neat opportunity for schools to integrate technology with our everyday faith as well as build and reinforce Catholic identity.