by
Carlos X
on Mar 28, 2014 in
Featured
,
Learn & Live the Faith
,
The Shepherd's Voice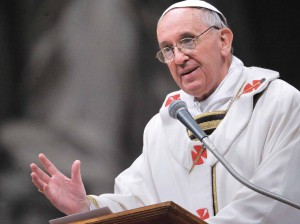 At the request of Pope Francis, the Diocese of Rome and other dioceses throughout the world will begin the weekend with a sustained period of heightened Lenten reflections and devotional practices termed "24 hours for the Lord."
The Pope announced the initiative from the window of the Papal Apartments after praying the "Angelus" last Sunday.  "On Friday and Saturday we will observe a special penitential moment called '24 Hours for the Lord'," said the Pontiff.
"It will begin with a celebration in St. Peter's Basilica Friday afternoon, then in the evening and during the night some churches in the center of Rome will be open for prayer and Confession."  Other Italian dioceses have joined the initiative with activities such as Confession, Eucharistic Adoration, public liturgies of the Vespers, the Compline, and the Lauds, prayers led by the faithful and lay movements, and a closing liturgical celebration.  During these events, many participating churches will stay open continuously for twenty-four hours.
"It will be—we can call it this—it will be the feast of forgiveness," said the Pope in explaining the pastoral purpose of the event, organized by the Pontifical Council for Promoting New Evangelization, the Vatican agency charged with finding methods of promoting the faith that may reach souls more effectively than traditional approaches. 
"We must celebrate the forgiveness that the Lord grants us, just as the father in the Parable of the Prodigal Son did," said the Pontiff.  "When his son returned home he celebrated, forgetting all of his sins.  It will be the feast of forgiveness."
In the founding document of the Pontifical Council for Promoting New Evangelization, Pope Benedict said that "the evangelizing action of the Church must constantly seek the proper means and language for presenting, or representing, to them God's revelation and faith in Jesus Christ."  The Council was central in promoting the Year of Faith initiative, which included a worldwide Day of Eucharistic Adoration, last year.
The activities planned for the "24 hours for the Lord" center on the theme of forgiveness and reconciliation announced by the Pope.  Lent is a time when the faithful are traditionally invited to be reconciled with God, and the Church proposes a plan of spiritual renewal with emphasis on the sacraments of baptism and confession, and practices such as fasting, prayer, and penance.
In his message for Lent this year, Pope Francis emphasized the need to evangelize about reconciliation.  "We are called as Christians," he said, "to proclaim the liberating news that forgiveness for sins committed is possible, that God is greater than our sinfulness, that he freely loves us at all times and that we were made for communion and eternal life."  This initiative is in keeping with that mission.