by
Fathers for Good
on Nov 05, 2013 in
Featured
,
Live in Christ
,
Parenting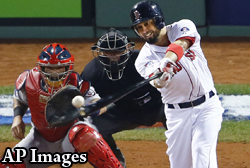 A third-inning, bases-loaded double off Fenway Park's Green Monster was the spark the Boston Red Sox needed to defeat the St. Louis Cardinals in Game 6 and clinch the World Series championship. The star who supplied that pivotal hit was right fielder Shane Victorino, who celebrated as he stood on the base by pounding his chest and basking in the thunderous ovation of the Boston fans. Two of the proudest people in the stands were his parents, Michael and Joycelyn, who had come from their home in Hawaii to root for their son and his team.
Knights of Columbus throughout the world also had reason to be proud. Michael Victorino is the Order's Hawaii state deputy, and Shane, 32 years old, has been a member for the past eight years.
For Shane, known as the "Flyin' Hawaiian," the double marked the high point in what had been for him a difficult World Series. His previous post-season hit had been a grand slam homer a week earlier against the Detroit Tigers to propel the Red Sox into the Series. Due to a tight back, he didn't start Game 4 against the Cardinals and sat out Game 5. His father, however, knew that his son was ready to give his best.
"He came through," Mike Victorino said by phone in an exclusive Fathers for Good interview. "He was having a few challenges with his back, but he has always been one to fight back and never give up. I think we all saw that in the sixth game."
Victorino realizes that most dads only dream of having a son in the Major Leagues, and he is "very proud of his accomplishments on the field." Yet, he added, he has always told Shane that "baseball is just like life. You have to answer the question, what have you done for me lately?" That is why Victorino is also proud of Shane's work off the field with a charitable foundation that bears his name. The Shane Victorino Foundation has invested $1 million to rebuild a historic Boys & Girls Club in Philadelphia and conducted clinics and outreach programs for young people in Hawaii and other states.
"We are thankful to God for his baseball talent which has given him great opportunities in life," the elder Victorino said. "Thank God also that he is using that talent for good purposes off the field. That's what it's all about."
This article originally appeared on Fathers for Good and is used with permission.