by
Patti Maguire Armstrong
on Oct 15, 2015 in
Featured
,
On TV and Movies
,
Sports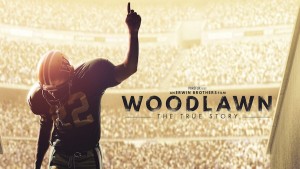 Christianity and football came together on Nov. 8, 1974 in Birmingham, Alabama. The two-time defending state champion Banks high school Jets played against their rivals, the Woodlawn Colonels before a record-breaking crowd of 42,000. It is fitting that the game that broke attendance records also became a symbol of the power of Jesus Christ. It is the story being told on the big screen in the movie Woodlawn.
The film tells of the real-life events at a school torn by racism and hatred. Birmingham, Alabama in 1973 was a perfect laboratory for demonstrating the power of Jesus to become a lightening rod of love. And love is certainly what Woodlawn needed when students from the inner city were getting bussed into white middle-class neighborhoods forcing integration on the school.
Things were getting ugly, but then a Jesus revolution swept through the school by the intervention of the Fellowship of Christian Athletes (FCA). Since 1954, the FCA had challenged coaches at all levels—from the national and college down to high schools–to use athletics to impact the world for Jesus Christ. Loving Jesus ignites the love of neighbor, even the ones from the bad neighborhoods.
A Spiritual Awakening
Public schools are not always keen on Jesus, yet through outside influences, they can provide fertile ground for planting the seeds of faith. And so it was at Woodlawn. A spiritual awakening captured the heart of nearly every player of their football team, including its coach Tandy Gerelds. People started noticing and it spread throughout the school and eventually across town to Banks High School, where their coach, Shorty White, initially resisted.
The coach feared that Jesus would weaken the team's aggressive instincts. But at a prayer gathering one night, it was Shorty and his main quarterback who were first to stand up and commit to Jesus. On both teams, hatred and animosity were pushed out—and sometimes shoved mightily—replaced by love and unity.
On the night before the state championship, the two top teams, Woodlawn and Banks, each led by teenagers and coaches on fire for Christ, met and prayed together. They were ready to compete to win, but they agreed to do so in a spirit of Christian love and respect.
Part of this story is the rise of superstar Tony Nathan, one of the students that was bussed in. Nathan had almost quit if not for encouragement from his coach, Gerelds and then Nathan, in turn, led him to become a part of the Christian movement. Nathan's exceptional ability on the field helped to unify the city and led him to play at the University of Alabama and then 10 years with the Miami Dolphins.
Personal For the Directors
Jon and Andrew Erwin are the directing team that brought Woodlawn to the big screen. Their focus on producing movies about Christian triumph includes several feature length documentaries, the International dramatic short film series God Provides, and the feature movies: October Baby, and Moms' Night Out.
Woodlawn is especially relevant for the Erwins. It was their own father who was the chaplain at the school, so the boys grew up hearing about the story. In an interview with Jon, he said it is exciting to tell a story that is so personal to him and significant to our country given the racial tensions many cities are experiencing today.
"Woodlawn was one of the last schools to integrate, and there was a lot of violence," Jon said. "There was talk of shutting the school down but the spiritual awakening lifted them up." According to him, 44 of the team's 48 players from all faith backgrounds became committed to Jesus Christ and living his message.
That commitment spread throughout the school and changed the dynamics from hatred to love. "I think it's a great reminder of the power of love and the fact that love can conquer human nature, and the message of Christianity is love and unity," Jon said. He stated that when such a radical love is modeled by any group of people, things change.
"Woodlawn is proof that it works, and I think that's a very relevant message today," he said. "At Woodlawn, an entire team made a decision to follow Jesus and to love one another, it worked than an it can work now."
"You couldn't just write this, it, it really did happen," Jon explained. "If the story wasn't true, it would be too contrived to make up.
In youth groups that previewed the movie in select cities, Jon said that high school kids have flooded the stage to show their commitment to love and serve Jesus.
"This is happening all over where the movie was previewed," he said. "Kids want to participate and make this large, bold decision. Imagine if thousands of kids and teams made that same decision; imagine what that would do to America."
Jon pointed out that the key to such a revival is unity among all faiths coming together to overcome hatred and violence. "There was an atheist that watched the film who told me that before seeing it he thought he was going to cringe," Jon said. "Instead, he told me he loved it."
Jon likens it to a line from the coach in the movie: "I don't know what I believe but I want what they have." For believers, he said the story is about Christ and the power of the Gospel, but for others, it is about the power of what love and unity can do.
Woodlawn, rated PG, opens in theaters October 16.