by
Mary Kochan
on Dec 16, 2013 in
Featured
,
Live in Christ
,
Women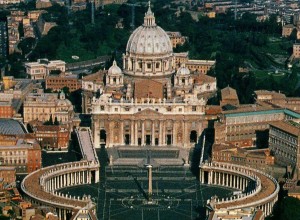 Who's in? Who's out? Who's up? Who's down? Who's headed up or headed down?  Whose influence is waxing or waning? Ah, Rome.  The Eternal City of intrigue. Ah, Vaticanistas. Of making many speculations there is no end.
I will concern myself with the goings on of the Roman Curia when:
All the dust is gone from every shelf.
The recipes are sorted.
I know everyone on my block.
The pictures are all straight.
The freezer is stocked.
All the volunteer slots at my parish are filled.
The weeds are pulled.
The fingerprints are gone from the woodwork.
The buttons are all on.
All the batteries work.
Everyone in my town has a place to sleep.
The grout lines are all clean.
The hours are all prayed.
No one needs a ride anywhere.
The dryer is empty.
Or if the pope asks for my input.
Whichever comes first.