by
Julie Filby
on Feb 17, 2012 in
Featured
,
Parenting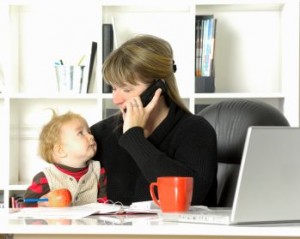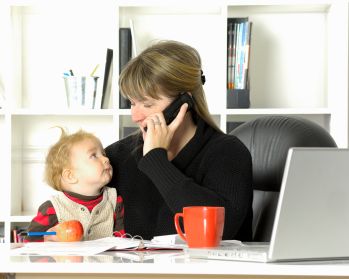 Before you say it, I agree: there's no such thing as a mom that doesn't work. I'm all for moms that work, stay home, and those somewhere in between. —JDF

A few weeks ago, an article "Motherhood and the Call to Holiness" seemed to pop up on every website, blog and feed I visited. Here, Thomas McDonald shared examples of moms, who by and large planned to work after having children, yet came to further realize their vocation by staying home.
I have to admit articles like that can sting a bit. I think all moms experience some degree of mommy guilt, but with working moms it's more of an epidemic. A recent survey found 66% of moms would rather stay home than work. On the flip side, through my own completely unofficial research [i.e. chatting with other moms], I know there are also stay-at-home moms who would like to work; it's just not conducive to their family life right now.
I'm a pretty good example of someone who was caught off-guard by how much motherhood would change my professional plans. Before our oldest was born in 2003, I worked in the investment industry [40+ hours a week] and I figured I'd be perfectly OK dropping Quinn off at a nearby daycare center fives days a week.
After spending the first week back on the job in tears, I realized it wasn't that clear cut. I struggled with handing my son off to spend the day with "Miss Jennifer" and "Miss Gwen," as lovely as they were. I ended up quitting my job and returning to a previous employer, working two days a week, and found an amazing in-home childcare provider. This was our M.O. for about four years.
For the last 3 1/2 years I've worked full-time, Monday-Thursday and some weekends, in my job with the Archdiocese of Denver. [More about how that happened here, if you're interested.]
In making decisions to work or not to work, parents weigh the relevant factors and prioritize based on their circumstances. Mothers sacrifice by working, not working, scrambling, juggling, and otherwise coordinating—all in the name of their top priority: their family.
With that said, back to "Motherhood and the Call to Holiness"—it's a call that's different, but no less significant, for everyone. In the spirit of the article, I'd like to share a few examples of working moms, who in responding to their call, share their maternal genius not only with their families, but with the working world as well:
My mom, sister and sister-in-law are nurses: in oncology, hospice, and neonatal intensive care. They have the extraordinary hearts and minds needed to care for the sick, the dying, and newborn babies struggling to survive. 'Nuf said.

My other sister is a classroom paraprofessional and my mother-in-law was a grade-school teacher: workdays spent tirelessly and patiently preparing students for the future, God bless 'em.
What about when it comes to the corporate working world?
I have a friend who is a controller for a large construction company. Motherhood has provided her with insight to see her employees and co-workers individually, separate from their abilities. She said it's also taught her to work harder and smarter so she can spend as much time as possible with her family: a benefit not only to her family, but to the company and its employees.

Another friend works in training and systems for a major insurance company. Her maternal skills have helped her understand that everyone learns differently and needs support. "I teach and listen with more patience and empathy since I've become a mother… I've realized that learning is not black and white, there's a lot of gray area."
Gray area. There's a lot of that in the world, especially when it comes to motherhood. But we navigate the haze the best we can, relying on God and each other. So moms, whether you work, stay home, or something in between: let's be there to lift each other up in our vocations, and continue to model maternal love in all we do—at home *and* in the workplace:
"Our work—whatever it is—should become a means to pursue holiness for ourselves and for our families, and to model holiness to those around us."

—Archbishop Charles J. Chaput, O.F.M. Cap., "Living the Catholic Faith," p. 118