by
Kevin Banet
on Sep 09, 2019 in
Featured
,
Live in Christ
,
On Books
,
Vocations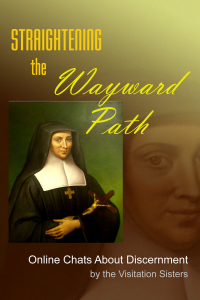 Free Ebook on Salesian Spirituality
Every Sunday evening a Visitation Sister gently guides online chatters about their vocational discernment and provides spiritual insights. The discussion is called the "Living Jesus Chat Room," named after the Visitation Sisters' motto "Live Jesus."
On this evening, a woman who teaches at an alternative public high school for discipline problems is wondering whether she has a religious vocation. Having logged on as Guest868, she has a question.
Guest868: How do you find these communities? I work full-time and don't know where to start.
Visitation Sister: One place is through contact with your Diocesan vocation office. And certainly the Internet has a lot of communities with a presence today. A spiritual director can also help, if you can find that director. A pastor might have suggestions about that, too. And we are here every week and would also be happy to walk the journey with you in our limited way and provide some ideas as we go along.
Guest 868: Is there anything I should be doing while I am discerning if this is a possibility?
Visitation Sister: First, prayer. Finding a spiritual director, priest or religious is a tremendous help. Going on a weekend retreat or day of recollection would also be a good spiritual support for you. Are you involved in your Church at all? That would also help.
Guest868: Thank you.
The guidance of a Visitation religious sister who is steeped in the knowledge of vocations and the spirituality of St. Francis de Sales has been a great help to the participants in the weekly chat, which has been held since 2011.
Online Chats About Discernment
Some of the best of the above conversations have been captured in a free ebook, Straightening the Wayward Path: Online Chats About Discernment. (No email required.)
The ebook discusses these questions:
Can we sense from our own interests how God is calling us in life?
What is the best way to make our way along this path?
Should I join a contemplative or active order?
How do I find a spiritual director?
What are the important factors in discerning one's God-given vocation in life? It's sometimes that still, small voice that needs silence for us to hear. But circumstances have a lot to do with God's will as well.
One chat guest asks,
"I am one of those who would like to have my life all out on paper in a plan, but that is not how God works in my life. I have been going to confession more often and always things are much clearer after."
The Visitation Sister suggests,
Inspiration, listening, obedience to the small voice and circumstance all play a part. God's good pleasure allows certain things to occur in our lives.  They need to be weighed in because He may be speaking through them as well as the still small voice.

For example, sometimes it's all the doors that are closed to us that lead us to the one open one that really is the will of God, but we have been knocking on doors that won't open; Because we want our own will not God's, at times.
This free ebook will surely impart to you some of the wisdom needed to navigate the perplexing pathways of discerning one's vocation. Simply go to, Straightening the Wayward Path: Online Chats About Discernment.
____________________