by
Rev. David L. Guffey, C.S.C.
on Sep 05, 2018 in
Featured
,
On TV and Movies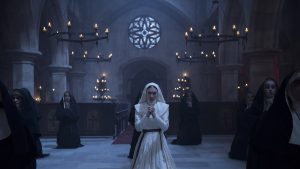 The Nun, is a film that releases this September about a priest and a woman who is in training to become a religious sister sent to investigate the mysterious death of a nun at an isolated, ancient convent. Last summer, I was graciously invited by Warner Bros. and the filmmakers to visit their set in Romania.
Arriving at the studio outside of Bucharest, it was obvious that the set designers were great at their job. Even though we were on a soundstage at a large studio, when I entered a dark gothic crypt/tomb room, the vibe was dark and sinister. There were symbols of the sacred, crosses and candles, but designed into the set was a sense of corruption. Just the set and subject matter of the film were enough to make some in the cast and crew ask for it to be blessed by a priest!
The Nun is written by Gary Dauberman (Annabelle, It), and produced by James Wan (The Conjuring, Conjuring II), two filmmakers in the horror genre that do something different – they portray the presence of evil seriously, and more importantly – the message that God will always be there for those in need. The "Conjuring universe" of films (as they are called) also reminds us all that evil loves secrecy. The devil sneaks in through the basements of life, lurks in the fleeting shadows, hidden but ready to pursue and pounce at the right moment of weakness. Evil seeks victims among the prideful and vulnerable and tries to isolate people as it gains power over them.
In my conversations with the filmmakers and cast during my set visit, it was clear to me that the talent was unified in trying to make a frightfully entertaining film peppered with an aura of spiritual warfare. Indeed, the characters in The Nun are faith-filled and decent men and women who come together to fight evil with courage and fidelity. One need not be perfect in this quest. For example, the protagonist, Father Burke, wrestles with darkness from his past, yet still strives to save others.
Horror fans will find enough twists, turns and frights to raise their heartbeats and scream in the dark. It is a scary movie with supernatural elements. And yet, the film also delivers lessons and reminders on the nature of evil and the importance of fighting spiritual battles.
Of course, people of faith, especially Christians, should not go to this film expecting some Sunday school class on grace and redemption or a catechism lesson. The Nun does get some aspects of Catholic theology, priesthood and religious life annoyingly wrong in the details. I sympathize with my lawyer and cop friends who, while watching procedural crime shows, say to themselves, "It doesn't really work that way." However, the film does acknowledge and dramatize certain spiritual realities that make it worthwhile.
When it comes to horror films, you either like 'em or you don't! The Nun is worth seeing and having a conversation afterwards if you are a fan of the genre or have an interest in watching a film with supernatural and spiritual themes, but be warned of frightening and disturbing images. I suspect the posters and promos might make some patrons worry it will be a hit job on the Catholic Church, nuns and other believers. But having been to the set and interacted with the filmmakers, I recommend you reserve judgment on that till the end of the film.
Thankfully most of us will not experience evil in the ways dramatized in The Nun. For people of faith, the movie reminds us of our need to turn to God, connect with others, and strive for faithfulness in our commitments in order to subvert and deflect the more ordinary tactics of the forces of darkness.