by
Stefano Gennarini, J.D.
on Feb 14, 2012 in
Featured
,
Life Issues & Bioethics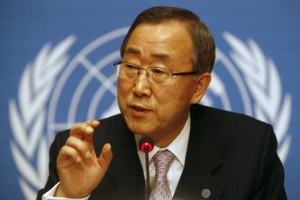 Last week UN Secretary General Ban Ki-moon told African nations to repeal criminal laws that places sanctions on homosexual conduct and to stop discrimination because of sexual orientation or gender identity.
Ban Ki-moon addressed the 54 African nations at the African Union Summit in Addis Ababa on January 29. He urged the countries in attendance to entrench civil, political and economic rights. Among these he included Lesbian, Gay, Bi-Sexual and Transgender (LGBT) rights.
He said, "Let me mention one form of discrimination that has been ignored or even sanctioned by many States for far too long … discrimination based on sexual orientation or gender identity. This has prompted some governments to treat people as second-class citizens, or even criminals. Confronting this discrimination is a challenge. But we must live up to the ideals of the Universal Declaration."
In most African countries homosexuality is frowned upon as immoral and degrading. The majority of Eastern and Western African nations criminalize homosexual acts, some even going as far as prescribing the death penalty. Many of these laws post-date the colonial period and have been passed in the last ten years. In most of these countries, LGBT rights are not even contemplated as possibilities in the distant future.
This is not the first time that a global political figure has pushed LGBT rights in Africa. In November last year, David Cameron said that the UK was working through the Commonwealth to pressure African nations to recognize LGBT rights. Cameron went as far as saying that in the future Commonwealth aid would come with strings attached. Similarly, Hillary Clinton spoke in December about promoting LGBT rights as "a priority" for US foreign policy.
Such mentions of LGBT rights in the international context are ambiguous at best. Reference is frequently made to the rights of all human beings to be free from violence and discrimination, as enshrined in the Universal Declaration of Human Rights and other international treaties. But the object of such mentions is evidently the adoption of the whole gamut of demands by the homosexual lobby, beginning with the removal of penal laws proscribing homosexual conduct, then granting homosexual unions the same legal rights as married couples, and ending with the recognition of all manner of sexual orientations and gender identities. Such rights were rejected, or not even contemplated, when the Universal Declaration of Human Rights and other international treaties were drafted.
International legal experts point out that no international treaty mentions LGBT rights. Sexual orientation and gender identity simply do not exist in international law, and cannot be the basis for any special rights. While nations have an obligation to protect all individuals, including persons with unorthodox sexual orientations and gender identities, from unjust discrimination, sovereign states retain the right to legislate as they deem fit over health and morals. It is beyond the scope of the Secretary General and other world leaders to re-interpret international law to push LGBT rights on other nations.
So far, few nations have given any indication that they will bow to such pressure.