by
Julie Filby
on Jan 03, 2012 in
Featured
,
Parenting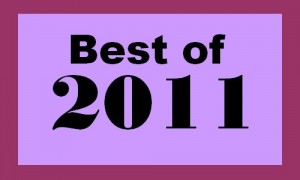 It's that time of year. Billboard selects the Best of the Year in Music (I like Adele too). Newsweek determines Epic Wins (Tebow) and Fails (Tiger). And the Most Fascinating People of the year are named by ABC News (Steve Jobs, OK; but I'm afraid Barbara missed the mark with the Kardashians).
Here's my contribution to the countdowns, best-of's and most fascinating 'this and that' of the year: Top 10 Things I Heard in 2011.
I'm surrounded by people who say meaningful things I never want to forget; problem is, I'm forgetful. Like many writers, I record or take notes when I need to remember quotes exactly as they were said–in a reporter's notebook, a journal, on a dry-cleaning receipt, via a memo on my phone, if necessary I scrawl it on my hand, and when desperate, I resort to taking mental notes [this is generally not a reliable format!]. Here are few of those gems from 2011.
Top 10 Things I Heard in 2011

10. "Guardian angels don't judge us, they just protect us, even right in the middle of a sin." –Father Andrew Kemberling at 'Q&A with Father A For Grown Ups' 1.29.2011
9. "We don't need to renew our vows. They stuck the first time."  –My mom on my parents' 50th wedding anniversary 4.22.2011
8. "While that tabernacle is quite a piece of hardware, that's not where Jesus wants to be. He wants to be in our hearts." Msgr. Michael Glenn at Life Teen Mass at St. Thomas More Church, Centennial, Colo.
7. "My favorite ting [sic] that God created is me." –Our son Quinn, 7, on a school assignment
6. "God wants us to keep bugging him. Bug him with prayer. He loves us so much no subject is off limits." –At dinner with Father Michael Freihofer in Grand Lake, Colo. 11.13. 2011
5. "Everything is simplified, admirably simplified when reduced to a Face." –Meditation of the Day, written by Father Maurice Zundel, given to me by my boss during Lent
4. "Christ never absolved us from defending the weak, or resisting evil in the world, or from solidarity with people who suffer." –Archbishop Charles Chaput, O.F.M. Cap. at the University of Notre Dame 4.8.2011
3. "Amen!" –Our son Quinn, 7, when receiving Jesus for the first time in the Eucharist 5.7.2011
2.  "I love you, Mommy. I love you even when I get naughty." –Our daughter Vaughn, 5, earlier this week
and…
1. "You're a good mom." –My husband when he knows I really need to hear it (whether it's true or not).
TELL ME ABOUT YOUR YEAR: What makes your best of 2011 list?