by
Joel Davidson
on Apr 04, 2011 in
Life Issues & Bioethics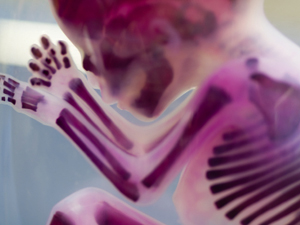 As of press time, the U.S. House and Senate were still haggling over legislation to fund the federal government through the end of the current fiscal year.
One of the leading disputes is over whether to allow the largest provider of abortions in the U.S. — Planned Parenthood —  access to federal funds.
The House has already passed Continuing Resolution, H.R. 1 that would de-fund Planned Parenthood. Powerful forces in the Senate, however, are committed to keeping Planned Parenthood in the money.
Many pro-life advocates hope to defund Planned Parenthood in an effort to reduce abortions, but this is no longer the only reason to demand that our legislators cut off taxpayer dollars to the organization.
Recent undercover videos reveal that Planned Parenthood employees have been caught working to cover up child sexual abuse and illegal prostitution rings. The videos, which were produced by undercover reporters from Live Action, show Planned Parenthood employees collaborating with a man posing as a pimp and helping him access abortions for his "girls." The employees are shown coaching the pimp on how he can hide the girls' ages so he will not to get in trouble for statutory rape.
These videos, which have been sent to state and federal authorities, can be viewed at liveaction.org.
The evidence is appalling and undeniable.
In light of the videos, Planned Parenthood has acknowledged that its staff may require retraining. From any reasonable standpoint, this group does not deserve continued taxpayer funding.
To turn a blind eye to these revelations or to minimize their impact does not serve the health of women, minors or their unborn babies.
Unfortunately, some senators, including Alaska's Sen. Lisa Murkowski, have argued that Planned Parenthood is still deserving of tax-payer funding.
In a letter to leaders of the Senate Appropriations Committee last month, Murkowski condemned an amendment in the House resolution that would effectively de-fund Planned Parenthood.
"I believe Planned Parenthood provides vital services to those in need and disagree with their funding cuts in the bill," she said.
To be accurate, Murkowski did ultimately vote in favor of a defeated Senate bill that would have banned federal funding for Planned Parenthood. Her reason for supporting the bill, however, was that she favored other cuts and wanted to reduce the federal deficit, not that she thought Planned Parenthood was undeserving.
The claim that Planned Parenthood provides many "vital services to those in need" is often thrown about by those who support the organization. The claim, however, is rather vague and ultimately highly questionable.
One of the nation's leading pro-life organizations — Susan B. Anthony List — has published an extensively researched document on Planned Parenthood's budget and services in recent years. The information was largely taken right out of Planned Parenthood's annual reports.
According to Planned Parenthood, in fiscal year 2008-09 received $363 million in federal taxpayer dollars while performing 332,278 abortions — 27 percent of all procedures in the U.S.
As for other "vital services," Planned Parenthood made one adoption referral for every 340 abortions it performed. In fact, 98 percent of all its services to pregnant women were abortions. According to its 2009 report, Planned Parenthood provided 332,278 abortions and only 977 adoption referrals.
The other "services" Planned Parenthood provides, such as primary care, sexual disease testing and cancer screenings are accessible without patronizing a corrupt organization. Tens of thousands of U.S. doctors and hospitals provide these services, along with more than a thousand federally-qualified U.S. health centers.
We have an obligation to contact our Alaskan delegation and ask that they vote to ban all federal funds for Planned Parenthood. Such a move would certainly hinder this abortion giant's ability to perform abortions, but it would also send a strong message that America will not look the other way while pushing taxpayer dollars to an organization that has been caught on video showing a willingness to exploit vulnerable women and enable child sexual abusers.
It matters who we give our money to.
—   By Joel Davidson, editor
Contacts for Alaska's delegation
SEN. LISA MURKOWSKI
Anchorage Office: (907) 271-3735
Washington Office: (202) 224-6665
SEN. MARK BEGICH
Anchorage Office: (907) 271-5915
Washington Office: (202) 224-3004
REP. DON YOUNG
Anchorage Office: (907) 271-5978
Washington Office: (202) 225-5765