by
Cheryl Dickow
on Mar 04, 2013 in
Columnists
,
Featured
,
Women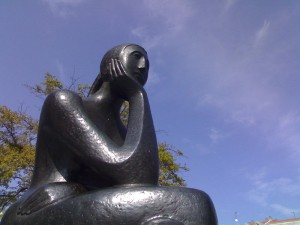 I know my purpose here on earth is to love and serve God so that I can spend eternity with Him in Heaven…
But at my age, even having some of the answers to life's bigger questions doesn't mean there still aren't a few things I wonder about…
For instance, I was recently watching a rerun of I Love Lucy and found myself saying out loud—to no one in particular: I don't remember Ethel being so young and pretty! In fact, she's beautiful! How did I ever miss that?
Or there was the time I was answering questions for a survey and wondered why my age group was the last choice. I thought everyone was living longer. Was I mistaken? Shouldn't there be an age group after mine?
I felt it was important to bring that to the attention of the gal conducting the survey: Have you not updated your survey recently? You know people are living much longer now and there is no way I should be in the last age group!
And yet on that same survey, my income was in the first, lowest box of ranges. How did that happen? Weren't they supposed to at least rise together—my age and my income? All I could think was, If I'm in the highest age group, shouldn't I also be in the highest income bracket? But I felt bad for the gal conducting the survey and kept my thoughts to myself…
 Recently, I caved in and bought some face-firming cream. The other day, after my shower, I decided to give it a try. Before I knew it, the jar is empty and still I'm not seeing any results. Although maybe if I put my glasses on I would have; but all I can think is, Does this stuff come in gallon tubs? And if so, where will I store it?
Speaking of glasses…when did the 10x magnification side of my little make-up mirror become my "normal" side?
Years ago, when we built our home, my mother would ask me annoying questions like, "How will you clean that?" when I would proudly show her the new, large shower stall or some such other wonderful thing.
My oldest son just bought a house and I actually heard myself say to him, "How will you keep them clean?" when looking at the expanse of wood floors and knowing his work schedule.
When did I become my mother? I really want to know.
Speaking of mom…she's never been known to give a gift without also giving directions for it. For instance, a pretty vase comes with her telling you the ideal location for it in your home; or, a new sweater comes with her telling you the perfect blouse to wear underneath—or to what occasion it should be worn.
So when I gave my son two of our swivel chairs to use in his new home I could not believe I then said, "They will go perfect in front of your living room window with the table lamp between them."
Seriously. At what point did my mother take over my body? I knew she was clever but this is ridiculous!