by
Bethanie Ryan
on Aug 04, 2014 in
Featured
,
On Books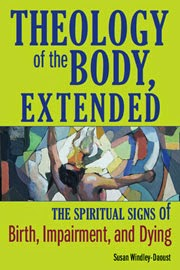 When John Paul II used his first years as pope forming the Theology of the Body, he meant it as a springboard for further reflection by theologians. In Theology of the Body, Extended: the Spiritual Signs of Birth, Impairment, and Dying, Susan Windley-Daoust takes that invitation and runs with it.
John Paul II focused on marriage and Catholic teachings regarding "pelvic issues." She took it into three more places that most of us can or will be able to relate to: birth, impairment and death.
The book is pretty academic, but not so much so as to be inaccessible to an arm-chair philosopher that likes Theology of the Body. You don't need to know John Paul II's Theology of the Body very intimately to appreciate her extension. She mainly tells the reader what they need to know in the first chapter, although knowing a little about it before hand wouldn't hurt.
In birth, impairment and death, we might not feel particularly close to God or even that God cares about our suffering, but we are still signs of spiritual Truth. We are still dependent on community and we can still help others. We are still signs of a Trinity of love and eternal gift.
When we are in these three life transition, we are giving part of ourselves and we are learning about sacrifice. We are called to be open to God and to others. We are called to be like Christ for others and others are called to be like Christ for us.
This book shares all of those truths and many more. Parts of the book that I thought would be difficult for me because of my life experiences ended up not being difficult at all. She looks at all of these issues from many different points of view. Her definition of impairment is much broader than I'm used to, but she explains why to my satisfaction.
Overall, I was really, really pleased by this book. It has inspired reflection in my own life and I am looking forward to any further thoughts Windley-Daoust has about childbirth.