by
Mike Eisenbath
on May 15, 2013 in
Featured
,
Live in Christ
,
Men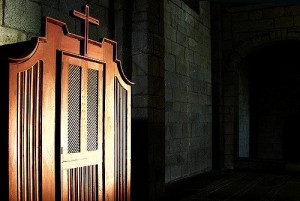 We all walk around with secrets. I'm not sure if I should thank God for that aspect of human nature.
Some of them are good secrets. They remain unspoken for a variety of reasons. Perhaps we're afraid people might think we are foolish or unreasonable for harboring thoughts of something we can never achieve or obtain.
Those secrets are called dreams. What would our lives be like without them?
Heaven is one of these dreams. The desire for eternal joy might be one of those things we keep stashed in our hearts, something we ponder when all is quiet or we're alone. I spend time by myself wondering what it will be like in Christ's Presence. I also secretly wish I could write a best-selling book or become a public speaker whose words could help change hearts and, maybe, change the world. I secretly wish I could be a mystic, like St. John of the Cross or St. Therese.
I secretly wish I could be truly happy.
Other secrets are kept unspoken for completely different reasons. Many of them could be called nightmares, apprehensions, worries. And some of our deepest secrets involve things we have done, things we want to do — things we fear we might do if left to our own devices.
We don't share them with anyone. Not with our neighbors, our family, our closest friends.
What would life be like without those secrets as well? We wouldn't be human.
Many of these secrets are called temptations. In extreme circumstances, they are known as sins.
Ah, you say, we don't hold our temptations and sins completely secret. We confess our sins to the priest during the Sacrament of Reconciliation. In our private prayers, we share our temptations with Jesus as we ask Him for strength.
If only we did.
There are some secrets, some sins, we hold back in the confessional. For instance, there are the ones against that First Commandment: "You shall have no other gods before me." Put another way, God doesn't want us to make anything more important than our love and devotion to Him. I break that one a lot. Consider that I prefer a couple of extra hours of sleep to going to daily Mass and that I spend a lot more time in front of the TV than in prayer or with Scripture. As I think of those things now, they are sinful. Yet I rarely confess violating that commandment.
By not exploring our hearts deeply enough to uncover such sins, we actually are keeping them secret from ourselves. And from our God. Yes, we keep secrets from God.
We especially don't share with Him our temptations that lead to sinfulness. I never have asked God to take away my desire to watch so much TV. I eat too much, especially from fast-food restaurants, and I've never asked God to rid me of that craving. I am barraged by so many temptations each day, and at best, I ask for strength against them. At worst, I avoid bringing them up in prayer at all.
Fool that I am, I never acknowledge to God that the secrets exist. As if He doesn't know.
I think of Adam and Eve. After they chomped on that apple, after they had made something else their god, they realized they were naked and tried to hide.
As if they could hide anything from the Father.
I just wonder what might have happened if at that moment of temptation, Adam and Eve hadn't kept it a secret from God. How different things would have been.
How different my life would be if I didn't keep so many secrets. Hmm. So many secrets.