by
Mike Eisenbath
on Oct 23, 2013 in
Disability, Sickness & Suffering
,
Featured
,
Health & Fitness
,
Those in Need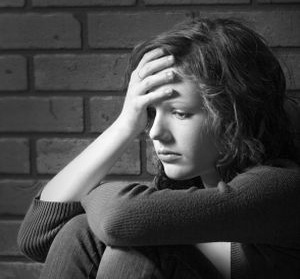 There can be a fine line between loneliness and solitude.
In solitude, there is a quiet joy — time spent by yourself in nature or at eucharistic adoration, an opportunity for contemplation and prayer and just basking in a peaceful presence. I love solitude.
Like so many, however, I dread loneliness. And unfortunately, I have lived with that feeling as a hovering companion far too often.
I'd venture to guess that loneliness might be an epidemic in our world. It plagues more than those afflicted with some depression or some other illness. Blessed Teresa of Calcutta famously said: "The most terrible poverty is loneliness and the feeling of being unloved."
I like to call loneliness "a solitude with suffering."
It can come when a person finds himself alone in a big house after a spouse has passed away or when overcoming the effects of chemotherapy while battling cancer in a cold hospital room. It can come when a person sits in a dorm room as a college freshman far from home or when she sits alone at the bar while on a business trip.
And it can come in the midst of a crowd of people, conversation going on all around, but the lonely man or woman feeling unconnected to all of that activity. The heart feels hollow when it's a lonely heart. Part of you feels invisible, and all you crave is to be found.
I recently perused prayer requests at www.catholic.com and found this one:
Please pray for me. Life has been hard over the last several months — accidents, painful illnesses and a recent surgery. I am bipolar and have been suffering from insomnia for months, which required two hospitalizations … I am extremely depressed and lonely right now. Please pray that I be given the grace of strength and fortitude to make it.
I've been there. In my depression, yes. My wife and kids, other family and friends have known about it and maybe even had an inkling that I was going through a particularly rough spell. But they didn't know how to reach out and support in a way I needed — not completely their fault, of course, because the suffering person doesn't always know what is needed. As a result, though, I felt like I was fighting the battle completely on my own.
It's an overwhelming sensation, one I'm sure is felt often by those with cancer or diabetes, multiple sclerosis or severe back trouble. They have doctors and family and friends and helpers who care tremendously, who bring meals and offer rides and promise to pray.
But when it comes to asking how they are really doing, sitting next to them during the worst of moments, when it comes to connecting, we often fall short.
Lonely people need to know they are loved, which can take some convincing because the lie lonely people hear in their head is "you are unlovable right now." Lonely people need someone to walk alongside them, to make the journey with them, which can be a challenge because the only thing lonely people often see is an empty space on each side.
This is serious stuff. Loneliness is dangerous. Temptation poses its strongest threat when a person is vulnerable, and there is no greater vulnerability than feeling lonely. That's the moment when a person is most likely to be lured into giving up and not getting out of bed, not going to work, not eating, not taking the prescribed medication. And worse.
Again, this isn't just about those with a physical or mental ailment. I read a study recently about how people on the surface feel they are in closer contact with others on a daily basis because of all the time they spend with social media, such as Facebook, but the actual result is that people are more isolated and alone.
Strength comes from companionship, from a real connection between human beings, a genuinely personal physical and emotional touch. That is the best medicine for the lonely.
So why does the medicine cabinet seem so bare for so many?
Look around you. Notice the lonely people in your life. Find the sick, the elderly, the stranger, those who don't know how to do anything but cry out to God. Overcome your fear and … connect. Let them know — let them really know — that they are loved.
Let them know they are not alone.