by
Patrice E. Athanasidy
on May 06, 2016 in
Featured
,
Live in Christ
,
Parenting
,
Women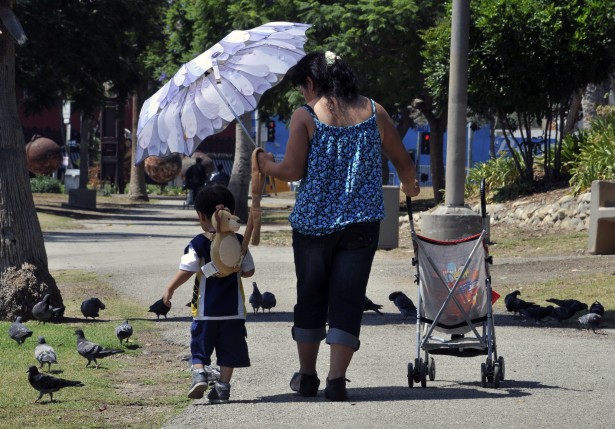 When I was child, I thought of mercy as something that was granted only to a person who really needed it, such as a big sinner, or when I did something really bad. I never thought about how mercy can be a part of everyday life. If we are open to the expansive nature of mercy, we can begin to make ourselves more willing to share the most vulnerable parts of our hearts because we are willing to accept mercy, not just grant it. In this Year of Mercy, I hope to share mercy in the give and take of everyday life, and make mercy the center of my motherhood.
As a mother, I have become very aware of mercy as a gift, especially with my three teenagers who are exploring independence. There are moments when one of my teens comes to me seeking mercy. Often, it is not forgiveness he or she needs, but more of a safe place to explore ideas. It is a moment a teen can talk and not hear, "I warned you" or "I told you so." My kids need mercy in the simplest form – a moment when a parent takes a breath and truly listens; a moment when mercy is manifested in quiet conversation, when a parent listens more than speaks.
I have also been a mom who needs to receive mercy from others. My son Peter has an autistic spectrum disorder, which means that when we are out in the world we are not always understood. As Peter has grown, he has learned to handle many of the social challenges better, often because during the early years there were people who showed us some mercy. When we were a little louder than we should have been in a restaurant, a parent gave us a smile to let us know we were doing our best. When Peter had to stretch widely during a show, the patron in the next seat would say she had kids too.
Those moments, if not met with mercy, would make us hesitate to venture out in public again. Peter can sense when he is being rejected although he cannot always tell what he is doing to bring on the reaction. When he is given the extra moment to handle the noise or the new experience, he often learns something new or is able to handle the next situation better. Each merciful act helps Peter to grow and gives this mom the safety net she needs to help him explore the world around him.
Watching others give Peter those moments of mercy has enabled me to be more patient as well. I want to give others that moment for a chance to grow. It doesn't have to be a child or someone with a challenge like autism. It can be the moment in the parking lot when I simply smile, rather than giving into my Bronx tendency to lean on the horn, as another mom blocks me while struggling to pile the kids in the car. It can be the breath I take as I try to get my own family out the door in the morning rather than losing my cool. It can be saying a quiet prayer for the person who just cut me off in line at the store.
Mercy comes in many forms and this year is the perfect time to practice the little ways to share it. It seems to have a ripple effect, spreading mercy as it goes. Whether on the giving or receiving end, mercy is a gift. As Pope Francis said when announcing the Year of Mercy last March, "I am convinced that the whole Church will find in this Jubilee the joy needed to rediscover and make fruitful the mercy of God, with which all of us are called to give consolation to every man and woman of our time. From this moment, we entrust this Holy Year to the Mother of Mercy, that she might turn her gaze upon us and watch over our journey."
What a wonderful thought for us moms. We have Mary, who understands with a merciful maternal heart!
Reprinted with permission from FathersForGood.org.