by
Dr. Mark W. Hendrickson
on Dec 09, 2012 in
Arts, Leisure & Culture
,
On TV and Movies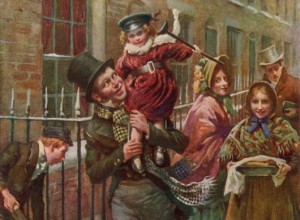 Let's have a happy debate: What are the five best Christmas movies of all time? Obviously, tastes differ and change over time. Here are my five favorites, the ones I am willing to watch every Christmas season, starting with number five and ending with my absolute favorite:
Number five: The Bishop's Wife — In this enchanting fantasy, Cary Grant plays an angel who visits earth to help a bishop (the superb David Niven) and his devoted but unhappy wife (Loretta Young). The message is the perennially important challenge to Christians to keep material concerns from eclipsing our spiritual priorities. This story is engaging, sweet, and profoundly wise. The scene in which the debonair Grant recites part of the 23rd Psalm is beautifully unselfconscious. It's hard to imagine such a scene in a contemporary movie.
Number four: A Christmas Story — This nostalgic, hilarious 1983 classic convincingly depicts 1940s Middle America—a simpler time whose values seem nearly lost today. The first time I saw this, I howled. Even now, when it runs on cable television around the clock on Christmas Day, some of the scenes are irresistibly funny.
Number three: Home Alone — Certainly, the slapstick battle between young Macaulay Culkin and the bumbling bad guys, brilliantly played by Joe Pesci and Daniel Stern, is the heart of this movie, but it also deals touchingly with the frictions that sneak into family life. I love the subplot in which young Kevin teaches his formerly mysterious neighbor to press the "reset" button and reconnect with his estranged son and his family.
Number two: A Christmas Carol — What makes this Charles Dickens tale a timeless classic is the rebirth of the miserly, self-absorbed Ebenezer Scrooge. Scrooge had sealed himself off from his fellow man and turned into a shell of a human being. In A Christmas Carol, the Christmas promise of redemption finds realization. Scrooge's heart is set free from its stony prison. He decides to love others, and as he does, he finds joy and returns triumphantly to the land of the living. A timeless truth is that one of the most effective ways for a person to find happiness is to focus on how to bring happiness to others. Just as "the Lord turned the captivity of Job, when he prayed for his friends" (Job 42:10), so Scrooge got a new lease on life when he cared for others. For the record, I prefer either the 1938 version, starring Reginald Owen, or 1951 film, starring Alastair Sim—sorry, the newer versions fall short.
Number one: Little Lord Fauntleroy — This film is a real dark horse. Most don't even know it exists. It has a simple, well-constructed plot, charming characters, and culminates on Christmas Day with the full redemption of an old man. Like Scrooge, the old man's spirit had withered, but was recovered through the pure and innocent love of a young child ("and a little child shall lead them"—Isaiah 11:6). I like the 1980 version, starring Ricky Schroder and the incomparable Alec Guinness, known to my generation for his Oscar-winning role in The Bridge over the River Kwai, and to younger movie-goers as Obi-Wan Kenobi.
The most common elements in these five movies are the power that children have to touch our hearts, the wonder of redemption, and the opportunity for rebirth. Indeed, birth and rebirth is what Christmas is all about. When a baby is born, it signifies the eternal hope that life can be pure, gentle, loving, and peaceful. Babies are living miracles. I love the way Luke relates how the Virgin Mary, shortly after her spiritual conception of Jesus, visits her elderly relative, Elisabeth, who had become pregnant with John the Baptist six months earlier, and John "leaped in [her] womb for joy" (Luke 1:44). How can one read that and not recognize the humanity of babies as people? And what greater wonder (and hope) can there be that there actually was a baby who brought to light Immanuel—God with us—to heal, restore, and bless?
Merry Christmas, everyone. Enjoy those Christmas movies, and may you feel as a palpable presence the holy benediction "on earth peace, good will toward men" (Luke 2:14).