by
Wendy Wright
on Oct 08, 2013 in
Featured
,
The Homosexual Agenda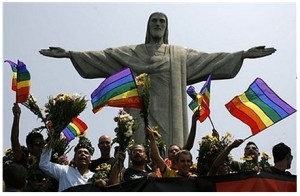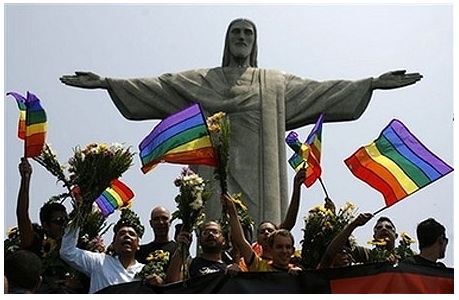 Inevitable. So we are told. Abortion and sexual rights (like same-sex marriage) will become universally accepted, so opponents might as well surrender.
Not so fast. Take a look at what is happening in Brazil.
Brazil presented itself as a world leader on sexual rights in 2003 when it introduced a UN resolution on sexual orientation and gender identity. Its approach to tackling HIV/AIDS was to end social stigma against risky sexual acts.
Dilma Rousseff's election to president in 2010 seemed to seal the advance for Brazil's sexual rights activists. The Workers Party candidate and former Marxist militant was supported by Europeans who said her opponent represented, "gender bias, sexism and homophobia."
But that success – and Christians' political involvement – has weakened them.
In "The End(s) of Activism? Sexual Rights and the Brazilian Workers Party," a professor chronicles set-backs for their movement due to the "growing political weight" of conservative Catholics and Evangelicals.
Evangelicals have impacted elections since the 1980s, leading to legislators forming Evangelical caucuses from the local to national levels. Their influence multiplied as Catholics and Evangelicals allied to form groups like the "Parliamentary Family and Pro-Life Caucus" which has 167 deputies and twenty-six senators across party lines.
Rousseff recognized this. During her campaign she released an "Open Letter to the People of God" promising to leave abortion, same-sex and family issues to Congress.
She hasn't been completely sidelined. Her government has held conferences on LGBT and women's rights, released national plans and created advisory councils to pursue these policies. Judges ruled for same-sex marriage and allowing the killing of anacephalic unborn babies.
But the professor worries "public policies supportive of sexual rights remain on paper" and activists are "largely on the defensive."
That's because religious conservatives in Congress have been busy. They introduced pro-life legislation, which sapped feminists' attention and resources. A congressional inquiry commission is looking into the international funding of feminist organizations. The budget for women's health focuses on the Stork Network for pre- and post-natal care – perhaps following the concern to reduce maternal mortality (a Millennium Development Goal), but an insult to feminists who believe "women's health" means not having children.
Rousseff's administration "censored sex education materials and HIV/AIDS prevention campaigns" due to pressure from conservatives, the professor writes. The director of the national STD/AIDS program was fired after he released a controversial campaign on social media that triggered calls from Evangelical congressmen for public hearings. The campaign was intended to focus on healthcare to prevent sexually transmitted diseases. One poster proclaimed, "I'm happy being a prostitute."
Flamboyant and aggressive sexual rights activists have been tamed by getting jobs in government. The professor writes,
Paradoxically, the ascent of the Workers Party has drawn many activists into the government and dampened their willingness to openly criticize it. The creation of women's and LGBT councils at various levels of government has bureaucratized and encapsulated activism at a time when greater outspokenness is needed. Moreover, many organizations are facing financial crises and closing as a result of the administrative decentralization undertaken by the National STD/AIDS Program and many international foundations turning away from Brazil. Together, this perfect storm is revealing the precariousness of a model of close cooperation between government and activism built over the last three decades.
It's enough to give hope and evidence that nothing – but God's promises – is inevitable.