by
Patti Maguire Armstrong
on Feb 28, 2013 in
Featured
,
On Media
,
Parenting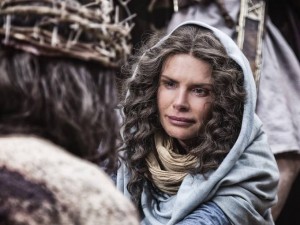 The Bible speaks for itself, or rather, it speaks for God. Yet, we have a generation of young people that are generally more excited about video games and special effects than the Word of God.  So, what's a parent to do?  If you are executive producer Mark Burnett and his wife, "Touched by an Angel" star Roma Downey, you make a 10-hour miniseries on the Bible.
During an interview with Roma and Mark, who are married to each other, they shared a moment of dismay they had while watching Cecil B. DeMille's version of The Ten Commandments with their three children. "I watched it every year growing up," Roma said. "Mark and I wanted the kids to watch it but we caught them giving each other looks like they wanted to leave the room."
"The Ten Commandments was an incredible movie for it's time, but it is over fifty years old," said Mark.  "To impress kids today, the bar is set high."  Impressing audiences is something the couple knows a little about. Burnett has won extensive awards including four Emmys. He has produced over 1,200 hours of television programming including "Survivor," "The Voice," "The Celebrity Apprentice," and "Shark Tank." Roma earned multiple best actress nominations for Emmy's and Golden Globe awards and has executive produced seven TV movies.
After their kids' negative reaction to The Ten Commandments, Mark and Roma became captivated with the idea of making a TV series on the Bible–something that would speak to a new generation in a big way.  "We make television shows that reach millions and millions of people, so we thought, why not one on the Bible?" said Roma. Their desire to glorify God and their belief that the Bible can change lives, set them on a four-year journey to create this series.  It began with writing scripts under the guidance of theologians, advisors, and Bible scholars from a cross-section of denominations.
Roma was raised Catholic in Ireland and Burnett had a Catholic father and Presbyterian mother. "We have had support across denominations," said Mark.  "There is more that unites us around the Bible than divides us."
In the spring of 2011, filming began on location in Morocco with an international crew.    An Oscar-winning team did the special effects and renowned, German film composer Hans Zimmer created the score. The movie covers pivotal stories from Genesis to Revelation within five, two-hour parts. The stories are based on the "New International Version" and "New Revised Standard Version" of the Bible.
In addition to co-producing, Roma also plays Mary, the mother of Jesus, with a younger actress playing Mary during the early years of Jesus' life. "I have prayed to Mary and loved her my whole life, since my mother died when I was a little girl," Roma said. "I am so glad to have seen the Passion through Mary's eyes, through the eyes of the mother of Jesus."
Mark and Roma said they prayed every step of the way and believe this movie will bring the Bible into people's lives in a new and exciting way. "We have scenes coming to life in extraordinary ways," said Roma. "It's going to be a faith journey, but it's also going to be really exciting and dynamic television."
Reviews from a Christian pre-screening event are billing it as a must-watch event with wildly enthusiastic praise across denominations. Here is a small sampling:
"Through the lens of the producers of this telling of the greatest story, we can see at times with sweeping scope and at other moments with touching detail, how it is that the Bible remains the most significant book – the book of the Word of God. My hope is that this video presentation, may bring alive its many stories in people's minds and hearts so that they may be drawn to rediscover the Bible and rejoice in its saving message."  –Donald Cardinal Wuerl, Archbishop of Washington.
"I think when people see The Bible, I think their hearts are going to be touched, desiring to embrace the word of God, to live the word of God more, to integrate it to the word of God and to share the word of God. I think when people see it, they're going to say, 'Did you see the series? You've got to see this series because it's something beautiful.'"  – Most Rev. Sam Jacobs- Bishop of Houma-Thibodaux
"The Bible clips were amazing. I was really touched by them. It was filled with life, with emotion, and with historical sensitivity.  Being from that area myself, from the Middle East, from the Holy Land, it was very touching.  It gives us an accurate as possible biblical sense; it emphasizes the reality of the scriptures from Genesis, to the Book of Revelations. And so you can see the Bible as it is, the word of God in the word of man, and the Spirit of God working."–Most Rev. Gregory Mansour, Eparchy of Saint Maron of Brooklyn
Perhaps the most important reviewers are Mark and Roma's children, two of whom are still in high school. "When we left for Morocco, they told us to be sure not to make the special effects lame," Roma said laughing. "They brought the trailer to school to show their friends without any encouragement from us, so I guess that means they like it."
The first 2-hour episode begins this Sunday, March 3, airing weekly on the History Channel, concluding on March 31, Easter Sunday.
Roma and Mark have also co-authored a companion book to The Bible series A Story of God and all of Us, scheduled for release this spring by Faith Words.