by
Chelsea Zimmerman
on Oct 02, 2012 in
Disability, Sickness & Suffering
,
Featured
,
Live in Christ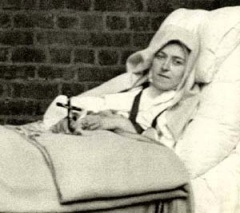 Yesterday the Catholic Church celebrated the feast of St. Thérèse, a lovable little saint whose example of humility and abandonment is a reminder of the strength that can be found when we embrace the limits of our human nature and place all our hope and trust in God who is "more tender than a Mother."
Humility is nothing more than recognizing the truth of who we are as human beings. Namely, that we are children of a good and gracious God. And children is precisely what God has called us to be like:
He called a child over, placed it in their midst, and said, "Amen, I say to you, unless you turn and become like children, you will not enter the kingdom of heaven. -Mt. 18:2-3
This was the basis for Little Flower's "little way." Little children are so small and weak that they depend on their parents for absolutely everything. To become child-like, then, is not to be childish, but to accept weakness and vulnerability in order to be strengthened by the power of Christ:
"My grace is sufficient for you for power is made perfect in weakness. I will rather boast most gladly of my weaknesses, in order that the power of Christ may dwell with me, for when I am weak, then I am strong." 2 Corinth 12:9
Thérèse lived this out in every aspect of her life, but it was especially evident in her approach to suffering.  What Thérèse understood, perhaps more than any other soul in modern history, is the infinite love that God has for each one of us, regardless of his or her physical capabilities or situation in life, and that this love alone is what gives value and meaning to every human life.
Afflicted with tuberculosis at a young age, a disease which not only caused her much physical pain, but also crushed her dreams of ever becoming active in the foreign missions. However, St. Thérèse did not allow such afflictions to also crush her spirit. Instead, she threw herself into the open arms of suffering and persevered under trial for the sake of God's love and for the salvation of souls.
Certainly God does not will suffering, which is a consequence of Original Sin. But in His infinite love and desire for souls He makes use of everything, including sickness, poverty, even our own failings so that we may grow closer to Him.
Sadly, we live in a world that would rather destroy human life in an effort to overcome human weakness than discover the spiritual benefits and inner strength that can be gained through suffering. Suffering, more than evil, is seen as the worst thing there is, so much so that people will commit evil acts in an attempt to avoid it, often under the pretext of mercy and compassion. A woman with an unwanted pregnancy doesn't want the "burden" of a child; sick people want cures for what ails them, even at the cost of nascent human life, or they want to be put out of their misery altogether, etc…
Suffering should be remedied whenever possible, but it is a part of life and a culture that expects life to be lived to its fullness must be able to embrace and make peace with—even find joy in—the normalcy of human suffering. Our task as Christians is to show the world its folly by imitating the example of saints like little Therese who took Christ's words seriously (Mt. 16:24, Lk. 9:23) and, like St. Paul (2 Corinth 12:10), was content in her weakness and rejoiced in her suffering.
The crosses that we carry are our keys to heaven, if we let them be, because they purify us (1 Peter 1:6-9) and produce perseverance (James 1:2-4). They remind us that we are creatures and totally dependent on God and teach us humility and self denial so that the power of Christ may more easily dwell in us (2 Corinth 12:9-10).
Therese's own words:
O Jesus, Your little bird is happy to be weak and little.  What would become of it if it were big?  Never would it have the boldness to appear in Your presence, to fall asleep in front of You.
…
Oh Jesus! why can't I tell all little souls how unspeakable is Your condescension? I feel that if You found a soul weaker and littler than mine, which is impossible, You would be pleased to grant it still greater favors, provided it abandoned itself with total confidence to Your Infinite Mercy. But why do I desire to communicate Your secrets of Love, O Jesus, for was it not You alone who taught them to me, and can You not reveal them to others? Yes, I know it, and I beg You to do it. I beg You to cast Your Divine glance upon a great number of little souls. I beg You to choose a legion of little Victims worthy of Your LOVE! (Story of a Soul, Manuscript B)