by
Catholic Lane Editor
on Jan 04, 2016 in
Saint of the Day - Ex Form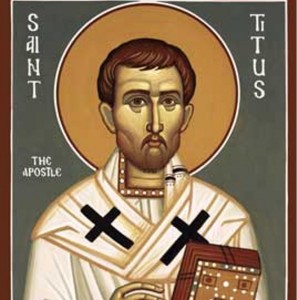 TITUS was a convert from heathenism, a disciple of St. Paul, one of the chosen companions of the Apostles in his journey to the Council of Jerusalem, and his fellow-laborers in many apostolic missions. From the Second Epistle which St. Paul sent by the hand of Titus to the Corinthians we gain an insight into his character and understand the, strong affection which his master bore him.
Titus had been commissioned to carry out a twofold office needing much firmness, discretion, and charity. He was to be the bearer of a severe rebuke to the Corinthians, who were giving scandal and were wavering in their faith; and at the same time he was to put their charity to a further test by calling upon them for abundant alms for the church at Jerusalem. St. Paul meanwhile was anxiously awaiting the result. At Troas he writes, "I had no rest in my spirit, because I found not Titus, my brother." He set sail to Macedonia. Here at last Titus brought the good news. His success had been complete. He reported the sorrow, the zeal, the generosity of the Christians, till the Apostle could not contain his joy, and sent back to them his faithful messenger with the letter of comfort from which we have quoted. Titus was finally left as a bishop in Crete, and here he, in turn, received the epistle which bears his name, and here at last he died in peace.
The mission of Titus to Corinth shows us how well the disciple caught the spirit of his master. He knew how to be firm and to inspire respect. The Corinthians, we are told, "received him with fear and trembling." He was patient and painstaking. St. Paul "gave thanks to God, Who had put such carefulness for them in the heart of Titus." And these gifts were enhanced by a quickness to detect and call out all that was good in others, and by a joyousness which overflowed upon the spirit of St. Paul himself, who "abundantly rejoiced in the joy of Titus."
Reflection.—Saints win their empire over the hearts of men by their wide and affectionate sympathy. This was the characteristic gift of St. Titus, as it was of St. Paul, St-Francis Xavier, and many others.