by
Catholic Lane Editor
on Nov 18, 2015 in
Saint of the Day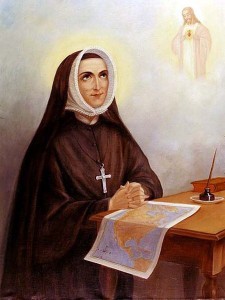 St. Rose Dushesne was born in Grenoble, France in 1769 and died in St. Charles, Missouri, 1852.   Scion of a prominent family, she joined the convent of the Visitation, without her family's knowledge.  During the French Revolution her convent was suppressed, but in 1804 her community was incorporated into the Society of the Sacred Heart in France.
In 1818, sister Rose headed out to America with a few other members of the Society. She arrived in New Orleans, and traveled the Louisiana territory, ending up in St. Charles, Missouri, near St Louis.  She founded numbers of branch houses and schools in the Midwest, but had a special place in her heart for native Americans.  The Native Americans named her Quahkahkanumad, which translates as "Woman Who Prays Always".
Inspired by the stories of Father Pierre De Smet, S.J., Duchesne was determined to continue on and help students in the Rocky Mountains, but, in 1842, when she was about 73, she became ill and had to go back to St Charles, where she spent the last ten years of her life.  She died on November 18, 1852, in St. Charles, MO, at the age of 83.