by
Catholic Lane Editor
on May 11, 2015 in
Saint of the Day - Ex Form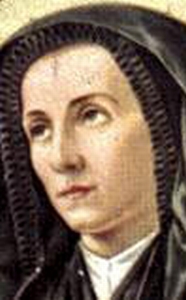 St. Lucia Filippini, of the Roman nobillity, was born in 1672 and baptized on the day of her birth. She received Holy Communion at a very early age, and when twelve years old was made a catechist of the children of the parish. She is the Foundress of the Institute of the Maestre Pie Filippini (Religious Teachers Filippini), which is devoted to the Christian education of youth.
Pope Clement XI called her to Rome to open schools for Roman girls. Since then the Popes have taken her Institute under their special protection and jurisdiction. A great teacher, but also a valiant missionary among women, she reached their inner hearts, winning them back to God with such success as to elicit the admiration of St. Leonard of Port Maurice, who was her contemporary.
Her love for the poor knew no bounds. Self-surrender made her a martyr of obedience, and her love for Jesus in the Blessed Sacrament made her a seraph of love and miraculously drew to her lips to her Eucharistic Lord.
Her body lies incorrupt under the altar dedicated to her in the Cathedral of Montefiascone, where she died in 1732. Lucia was beatified in 1926 and canonized in 1930 by Pope Pius XI.
Reflection. To teach the young the young the ways of Christ is to give them not only the truths of their religion but the example of His industry and labor. By contrast, as Teddy Roosevelt famously said, "to educate a child in mind but not in morals is to educate a menace to society."