by
Catholic Lane Editor
on Dec 22, 2015 in
Saint of the Day - Ex Form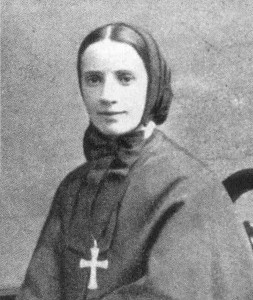 Italian born, American saint (1850-1917).
Sister Cabrini took religious vows in 1877 and added Xavier to her name to honor the Jesuit saint, Francis Xavier. She became the Superior of the House of Providence orphanage in Codogno, Italy where she taught, and drew a small community of women to live a religious way of life.
In 1880, the orphanage was closed and then opened again by her. She and six other women who had taken religious vows with her founded the Missionary Sisters of the Sacred Heart of Jesus (M.S.C.) on November 14. Mother Cabrini composed the rules and constitution of the religious institute, and she continued as its Superior General until her death. The congregation established seven homes and a free school and nursery in its first five years. Its good works brought Mother Cabrini to the attention of Pope Leo XIII.
Sr. Cabrini went to the Vatican to seek approval of the Pope to establish missions in China. Instead, he instructed her to go to the United States to help the Italian immigrants who were flooding to that nation in that era, mostly in great poverty. "Not to the East but to the West" was his advice.
She followed the Papal mandate and left for the United States, arriving in New York City on March 31, 1889 along with the other six Sisters. There she obtained the permission of Archbishop Michael Corrigan, the Archbishop of New York, to found an orphanage, which is located in West Park, New York, today and is known as Saint Cabrini Home–the first of 67 institutions she founded: in New York, Chicago, Des Plaines, Seattle, New Orleans, Denver, Golden, Los Angeles, Philadelphia, and in countries throughout South America and Europe. She became a US citizen in 1909 in Seattle. Long after her death, the Missionary Sisters would achieve Mother Cabrini's goal of being missionaries to China. In only a short time, after much social and religious upheaval there, the Sisters left China and, subsequently, a Siberian placement.
Sr. Cabrini was naturalized as a United States citizen in 1909.