by
Cheryl Dickow
on Nov 14, 2011 in
Columnists
,
Featured
,
Live in Christ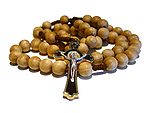 When I taught religion in a parochial middle school, part of my weekly responsibilities included writing the Prayers of the Faithful that would be read by a middle school student in our weekly Mass.
I loved this part of my job! Actually, I loved every part of my job. For the first few years—before the politics of it all began to take their toll—I was convinced this was my little slice of Heaven on earth. Nothing could be better than teaching English and religion to some of the most fascinating, complicated, endearing creatures God ever created: 7th grade kids!
So each week, along with the lessons I planned, I devotedly sat down and wrote the Prayers of the Faithful.  I took this responsibility very seriously. Here I was, directing the entire middle school—and the parishioners who also attended—in their supplications to God.
There was a subtle order that we were directed to follow, a hierarchy so to speak:
Pope and Catholic Church
Archbishop and our diocese
Local parish, priest, parishioners etc.
Misc things that were happening in the community in general—or world at large
Those for whom the Mass was being said
I wrote things like: For John Paul II as he leads us, his flock, so that he may respond to the Holy Spirit and reflect Christ's wisdom to us. (Just in case JPII wasn't currently responding to the Holy Spirit!)
Or: For those who tend to the poor and disenfranchised, so that they fully understand how to be stewards of the time and resources God has given them. (Just in case those who currently tended to the poor and disenfranchised weren't already being good stewards of their time and resources!)
You get the picture.
Heady stuff, directing God in what amounts to the painfully obvious.
Of course we teachers who wrote these prayers sometimes let our emotions get the better of us; so there might be the likes of some of these that slipped in:
For the greedy Wall Street bankers, so that their pockets full of money drag them kicking and screaming directly to Hell but not before they realize all the harm they've done and repay every person who was ever harmed….
In the end, I truly believe that we were (and are) all good-intentioned when we pray; but I have to come to realize that we often take liberties, as well – liberties that may not be in our best interest or in the best interest of those for whom we are praying.
About a year ago our Pastor made mention of this in a homily. He was not issuing a directive to any of us; but was simply asking us to consider the ways in which we construct our supplications.
I lead a small group Bible study at our parish and before we begin our time together, we say the Rosary. After hearing Father's words about what he called the "so that…" prayers, I've shared with my friends at this study that I am sure God and the Communion of Saints get a kick out of our little group when we pull our Rosaries out: They're starting! I'm sure some saint calls out good-naturedly. Come on! Let's see what they say today!
Amy: For Jerry who is having surgery today, so that he may have a full recovery and live out his days in great health fulfilling his baptismal promises and that his wife and children will come to know how valuable he is to their family and love him more deeply in all that he does for them.
Mary: What kind of surgery is Jerry having?! I didn't know this! I just talked with his wife, June, yesterday and she didn't mention surgery!
Amy: I think they really didn't want anyone to know. They haven't told the kids yet; but June called me and asked that we pray for him today.
Mike: I'm not sure why they haven't told the kids! The kids are old enough; besides, aren't they going to be made when they find out their dad had surgery and they weren't told?

Cheryl: Definitely! I know if my mom had surgery and no one told me I would be upset; but on the other hand, I can see withholding that information from my own kids!
Joan: Do you think his wife doesn't appreciate him? Gee, I feel bad about that! I know his kids can be a handful but they seem nice enough.
Mary: So what time is Jerry's surgery? What hospital? Does anyone want to go with me? Should we take June and the kids a few meals?
Amy: I can drive tomorrow if you want! I'll drop the kids off to school and head over to the parish center…
And so it goes. At some point we get back on track and someone offers another "so that…" prayer and, as I've mentioned, I'm sure the Communion of Saints are in stitches by that time, due to our attempts at directing God—and say the Rosary.
Consequently, when our pastor made mention of the "so that…" syndrome we all experience in our prayer life, I took note. I understood what he was talking about; on many levels I can see how that might begin to be a problem—even when it is only our good intentions that move us forward.
Now all this isn't to say that we shouldn't offer what we think is best, or what we hope will be an outcome when we pray—or that we won't get sidetracked when we pray; because we probably will.
What this is to say is that when we pray, our first and foremost guideline is to seek God's holy and perfect will—and not to direct God nor give in to our curiosity about any given situation nor seek our personal revenge. Fortunately, there are times in our lives when we are more easily able to access the wisdom that allows us to simply lay things at the foot of the Cross; or God gives us friendships with others who may help us let go of the "so that…" control we wish to include in our prayer life.
In the end, while we may think and write and speak our prayers in the "so that…" vernacular, it is important that we keep our hearts focused on seeking God's holy and perfect will so that He can be God and we can realize we are not!
And if we make the Communion of Saints chuckle along the way at our attempts, well, there's no harm in that.